Strongman Screening in Columbus . . . Ready for the Arnold
Strongman, the documentary about Stanless Steel, who performs traditional feats of strength, will be screening in Columbus, Ohio the same weekend as the Arnold hits town.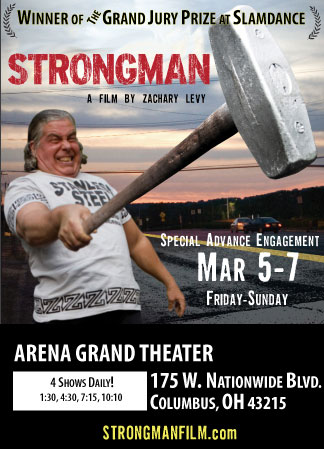 Bending steel and levering sledgehammers are among the feats of strength that Stanless Steel performs, and his credits include being certified on the No. 3 Captains of Crush® Gripper. IronMind® | Artwork courtesy of Zach Levy.


Stanless Steel's story is told by filmmaker Zach Levy, and if you're going to be in Columbus March 5 - 7, here's your chance to see this movie.

Mike Corlett, a mild-mannered CPA by day who turns into a fire breathing No. 3 Captains of Crush® chaser at night, thought of synching Strongman with the Arnold weekend - Corlett is the author of an article on Stanless in the March 2010 issue of MILO®: A Journal For Serious Strength Athletes, so it's no wonder that he has Stanless Steel and the film Strongman on his mind.

Zach Levy told IronMind®, "The film will be playing Friday March 5 to Sunday, March 7 at the Arena Grand Theater in downtown Columbus. The theater is right across the street from Nationwide Arena and just a few blocks walk from the Convention Center, so it's close to all the events. There will be 4 shows daily: 1:30 p.m., 4:30 p.m., 7:15 p.m., and 10:10 p.m.

"I'll be at the theater doing Q & A for the evening shows on Friday, all the shows on Saturday, and the afternoon shows on Sunday," Levy said.

Asked how he feels about this screening, Levy told IronMind®, "I'm thrilled, excited, and truthfully, even a little bit nervous about the chance to play the film in Columbus. It's a commercial theater so we'll be up against movies with real marketing money behind them. I'd love of course to have a great showing, so if people are headed that way or know folks that are, any help spreading the word on a grass-roots level would be great! I'm really looking forward to it."

Watch the Strongman trailer, follow Strongman on Facebook, and you can buy at advance tickets online.