Strongman Records at Arnold Australia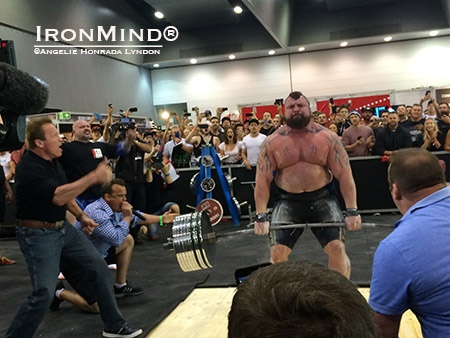 "Pro Strongman is one of the major events within the Arnold Australia sports festival and we had a top field this year: Brian Shaw (who won in Ohio) lead the strong field," said contest organizer Bill Lyndon told IronMind.

Eddie Hall pulled a strongman world record deadlift of 462 kg, with Arnold (left)  and Rob Frampton cheering as Colin Bryce called the action. IronMind® | Angelie Honrada Lyndon photo

"One of the many highlights of the event was Eddie Hall's strongman world record deadlift of 462 kg and what was even more special was that Arnold was there to witness this great feat of strength.

"Other outstanding results wer Robert Oberst's American Log Lift record of 211 kg.

"The event overall was a great success, with all three days of the 2015 festival pulling in record breaking crowds," Lyndon said.



Pro Strongman Final Results
1-Brian Shaw 54.5
2- Krzysztof Radzikowski 49.5
3-Robert Oberst 43.0
4-Eddie Hall 40.0
5-Eben Le Roux 32.0
6-Gerhard Van Staden 28.5
7-Rob Frampton 25.5
8-Danny Macri 16.5
9-Ben Simpson 15.0
10-Tristen O'Brien 10.5


                                                          ###



Want to talk strength?  Join the IronMind Forum. 

You can also follow IronMind on Twitter and on Facebook.