Strongman Jarno Hams Ready for 7th Dutch Title
They "qualified through four rounds through the whole year," and now the 12 finalists will square off tomorrow for the Dutch National Strongman Championships, Marcel Mostert told IronMind today.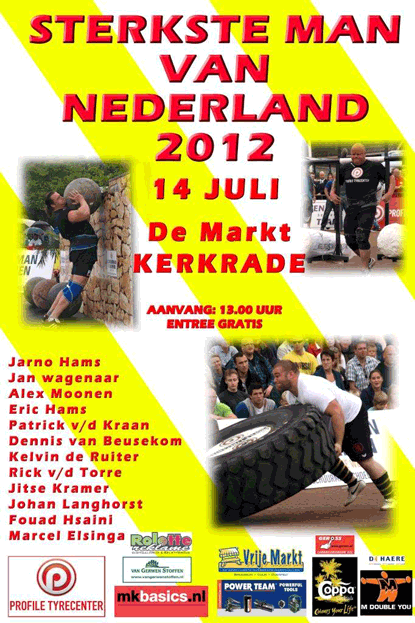 This weekend, Jarno Hams will be chasing his seventh Dutch National Strongman Championships. IronMind® | Courtesy of Marcel Mostert.


"They will compete in six events like: Log Lift Max , Loading, Wheel Flip , Yoke Race, Deadlift for Max and the Atlas stones up to 180 kg.

"If Jarno Hams will win, then he equals together with former Dutch record holder and European Strongest Man in 2000, Berend Veneberg, with 7 national titles.
"He is ready to fight for that and in good shape, as he broke the Dutch Log Lift record just 3 weeks ago in the SCL–Holland with 182.5 kg," said Mostert.

The 12 finalists for the 2012 Dutch National Strongman Championships are:

Jarno Hams
Alex Moonen
Jan Wagenaar
Eric Hams
Dennis van Beusekom
Patrick vd Kraan
Fouad Hsaini
Rick vd Torre
Kelvin de Ruiter
Marcel elsinga
Johan Langhorst
Jitse Kramer

The competition is in Kerkrade, Holland and it starts at 1:00 pm (13.00 hours), with free admission.

###

The IronMind Forum: discuss this article, talk strength, get help with your training.

You can also follow IronMind on Twitter.