Strongman Champions League: Zydrunas Savickas Wins in Romania
"The season is long, the athletes are getting tired, and injuries are cleaning the Strongman Champions League train, but the very best fight until the end," reported Marcel Mostert, and the best in Constanta, Romania was Zydrunas Savickas.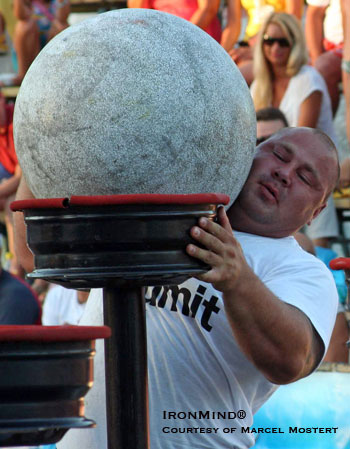 Tobias Ide was among the competitors at the Strongman Champions League contest in Constanta, Romania. IronMind® | Photo courtesy of Marcel Mostert.
Not that Zydrunas Savickas had an easy time of things: "Zydrunas and Ervin Katona were fighting for two days over eight events, with Ervin in second place overall, just one-half point behind the absolute champion this year, Zydrunas Savickas. Zydrunas was just 0.20 second faster in the last event, loading beer barrels, than Ervin and this saved his first-place position."

Constanta is a beautiful city on the Black Sea, said Mostert. "Although the crowd was skeptical the first day, they loved it on the second day because of direct broadcasting on the Romanian TV channels. It's a new sport in a new booming country, where two new Romanian athletes competed." These athletes were selected "from the first Romanian nationals, which we held in June," explained Mostert. "They did a great performance, although it was very tough for them."

"The mayor of the city liked the event very much and agreed already for the next Strongman Champions League competition in 2009, with an even bigger budget, crowd and show, so we are very happy about this, of course!"

Here are the top ten:

1. Zydrunas Savickas (Lithuania), 83.5 points
2. Ervin Katona (Serbia), 83 points
3. Oleksandr Lashin (Ukraine), 61 points
4. Agris Kazelniks (Latvia), 59 points
5. Zsolt Szabo (Hungary), 53.5 points
6. Tobias Ide (Germany), 51.5 points
7. Zdravko Zanev (Bulgaria), 34.5 points
8. Jarno Hams (Holland), 34 points
9. Mircea Parjol (Romania), 25 points
10. Vladimir Mirtea (Romania), 11 points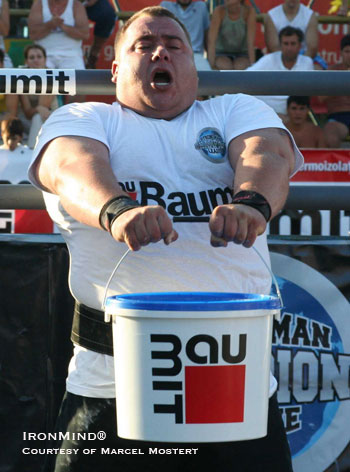 Mircea Parjol was one of the two Romanian strongmen in this competition. IronMind® | Photo courtesy of Marcel Mostert.