Strongman Champions League: Zydrunas Savickas Breaks World Record
"Zydrunas Savickas shows again his brute power," Marcel Mostert reported to IronMind®, "by winning also the third Strongman Champions League competition in Holland."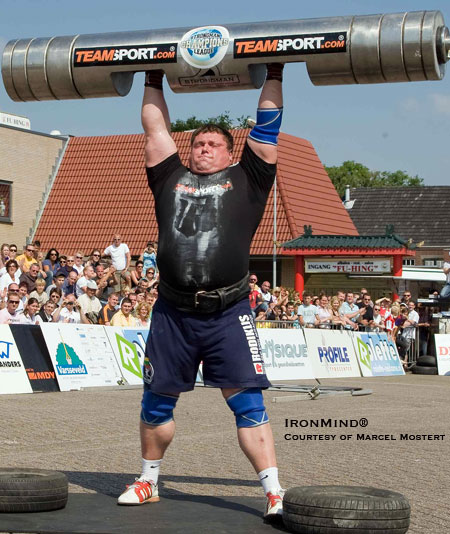 Zydrunas Savickas puts away a 207.5-kg world record, using an IFSA log. IronMind® | Photo courtesy of Marcel Mostert.

Marcel Mostert is well-established at IronMind® for his predictions, and once again he was spot on, as Zydrunas Savickas produced the world record that Mostert had said would happen: "On the official IFSA log, 207.5 kg by Zydrunas went straight up and rock solid to the sky!" said Mostert. "It could have even been more, but Big Z wanted to break it again somewhere this year."

"It was a very sunny day in Holland, 27 degrees [81 degrees Fahrenheit], with a nice crowd of 4,000 people, and we witnessed brute power, heavy weights, and also a killing medley that took two minutes for an athlete to finish . . . if they could finish. The athletes said even it was their heaviest medley ever."

"With four athletes not finishing the medley, I think that's the way it should be in the Strongman Champions League," Mostert said, underlining his earlier comments that he sees the Strongman Champions League as the home of the strongest and the best of the strongmen.

Besides his world record in the log, "Zydrunas also had a personal record in the weight for height with 25 kg, one arm - he succeeded the winning height of 5.20 meters (17 feet). Andrus Murumets got a good second place overall, with for him also a personal record in the log lift with 185 kg."

"Travis Ortmayer came with a little pec injury to Holland, where we told him not to moan, but just to be tough as it is the Strongman Champions League here. He listened very well to that and eventually came to a third place overall. And seeing his injury, I only can say to that: Respect!

"The Dutch hope, Jarno Hams, was even leading after two events - the Giant Medley and Log Lift - but in this strong field, he had to get captured by the end and he got a respectable fifth place. He has still muscle pain everywhere as I spoke him today, and that's what we want.

"So, the Strongman Champions League train has departed again, up to Bulgaria on 21 June . . . with lots of smoke left behind it. We are looking forward who can break a new record or breaks himself with this heavy train in Bulgaria on 21 June."

Here are the final results:

1) Zydrunas Savickas 73 points
2) Andrus Murumets 63.5
3) Travis Ortmayer 61.5
4) Ervin Katona 58.5
5) Jarno Hams 55
6) Jani Illikainen 47
7) Agris Kazelniks 39
8) Evert Kreuze 36
9) Levi Veoga 33,5
10) Tom Jansen 28
11) Jimmy Laureys 23
12) Boris Milosevic 14
13) Jeremy Hogg 14
14) Etienne Smit (out)





Standing in front of the gracious Villa Ruimizicht, the Strongman Champions League organizers and competitors show off the official clothing line. Not just about tough competition, the Strongman Champions League is making its mark in other ways as well: IronMind® has heard that the after party was of such proportions that even the veteran clubber Marcel Mostert was left speechless the next day. And besides the excellent hotel, IronMind® was told that the dining experience was just as exceptional, including a visit to a special steakhouse that served one-kilo steaks. "Not all athletes could finish this," Marcel Mostert told IronMind®, "but surprisingly, Mr. Ilkka Kinnunen did . . . with three liters of cola light to flush it away." IronMind® | Courtesy of Marcel Mostert