Strongman Champions League: World's Strongest Man, Year-End Schedule
Asked about the year-end schedule for Strongman Champions League (SCL), co-founder Marcel Mostert told IronMind®, "Directly after the World's Strongest Man we continue our tour starting with the SCL Spain on 10 October."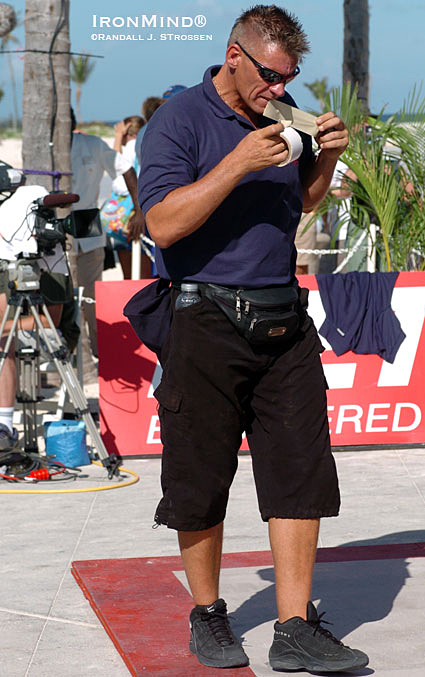 Marcel Mostert puts his teeth to work at the 2004 World's Strongest Man contest. IronMind® | Randall J. Strossen photo.

"Thereafter, the SCL England in London on 18 October, the SCL Hungary on 31 October, and we're very busy to finalize the last details for doing the SCL Grand Final on 25 November in China, to crown the SCL champion of 2009. Co-director Ilkka Kinnunen will fly next week to China to finish this in a good way," Mostert said.

Meantime, Marcel Mostert will be back at the WSM 2009 for the first time since 2004, and while Giants Live remains the sole official qualifying tour for the World's Strongest Man contest, the full roster of competitors comes from multiple sources and Mostert's contribution to the starting field will be seen this year.

World's Strongest Man 2009 will be presenting "the best of the best" in the strongman world, Mostert told IronMind®, adding, "We are very happy that the Strongman Champions League found a good connection and cooperation with [WSM owner] IMG and the World's Strongest Man contest. We have worked for some months about cooperation between SCL and IMG, and we are both happy with the success, as we think it will benefit the whole strongman world.

"The first results we see already are in the lineup for the world strongest man 2009," continued Mostert.

"The top five of the Strongman Champions League now are automatically invited [to World's Strongest Man]," said Mostert, who attributes this to the success of SCL and "the good will and spirit of IMG."

"In our opinion, we have in this year at WSM really the best strongman who there are in the world, without any doubt. It will be very exciting to see," Mostert said.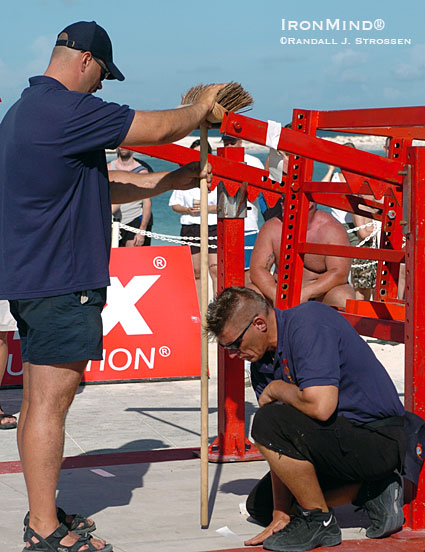 Using a high-tech measuring tool, Ilkka Kinnunen (left) works with Marcel Mostert (right) at WSM 2004, where the team does some precision mapping for the barrel squat apparatus. IronMind® | Randall J. Strossen photo.