Strongman Champions League: US$20K Latvia Contest
The 2008 Strongman Champions League kicks off its 2008 season with a contest in Riga, Latvia on March 22, and with a US$20,000 prize list plus a formidable list of competitors, the organizers are wasting no time making their mark.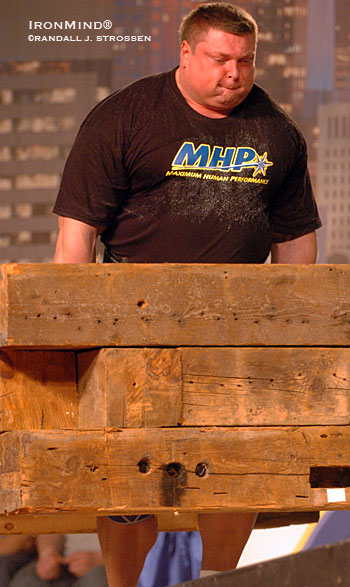 Fresh from his victory in Columbus, Zydrunas Savickas is set to compete in Latvia, in the Strongman Champions League. The organizers of Fortissimus told IronMind that Zydrunas Savickas has been (re)invited to their contest, with the six-time Arnold Strongman winner saying that he would give his final decision tonight. IronMind® | Randall J. Strossen photo.

Marcel Mostert, who organized the Strongman Champions League with Ilkka Kinnunen, said the competition will feature "a strong field with great champions who proved already their strength in their countries," and this is no idle boast when you look at the lineup:

1. Zydrunas Savickas (Lithuania)
2. Andrus Murumets (Estonia)
3. Oleksandr Pekanov (Ukraine)
4. Misha Koklyaev (Russia)
5. Travis Ortmayer (USA)
6. Jarno Hams (Holland)
7. Etienne Smit (South Africa)
8. Jan Salata (Czech)
9. Tamas Malatinzsky (Hungary)
10. Farzad Mousakhani (Iran)
11. Jani Kohlemainen (Finland)
12. Agris Kazelniks (Latvia)
13. Mareks Leitis (Latvia)
14. Andris Leisavnieks (Latvia)

Mostert told IronMind® that Oleksandr Pekanov (Ukraine) is substituting for 2007 IFSA World Champion Vasyl Virastyuk, who was injured at the Arnold.

The all-star cast continues, as Illka Kinnunen and Marcel Mostert will be the referees, and Raimunds Bergmanis will be the announcer.

The events are: Viking press, yoke race, farmer's walk-tire flip medley, deadlift, wheelbarrow and Atlas stones.

Mostert told IronMind that the contest will be held in the Riga Arena, which is the largest in the city (holding 8,000 people), and with a total purse of US$20,000 (US$6,000 for the winner), the Strongman Champions League has the pieces in place for a big start.