Strongman Champions League: Serbia
Marcel Mostert told IronMind® that May 10 will see the second Strongman Champions League competition, set for Sobotica, Serbia.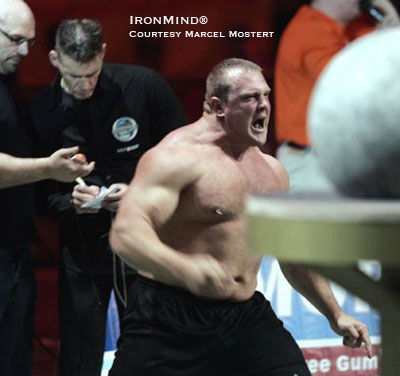 With Marcel Mostert (center) calmly tabulating the scores, Travis Ortmayer seems to be saying of the stones, "First I load them . . . and then I eat them!" Watch the broadcast of the Strongman Champions League contest in Latvia and find out. IronMind® | Photo courtesy of Marcel Mostert.

"Again, a great competition with heavy events and top athletes, where only the strongest will survive," said Mostert. Here's the lineup of competitors: Zydrunas Savickas (Lithuania), Misha Koklyaev (Russia), Igor Werner (Germany), Esa Quintus (Finland), Ervin Katona (Serbia), Andrus Murumets (Estonia), Agris Kazelniks (Latvia), Stefan Solvi Petursson (Iceland), Jarno Hams (Holland), Zdenek Sedmik (Czech), and Bernd Kirshbaumer (Austria), and one additional competitor from Serbia has yet to be named.

Mostert also provided the official list of events:

1. Bus Pull (arm-over-arm): 25 meters
2. Viking Press: 140 kg for reps
3. Yoke: 410 kg
4. Deadlift: 340 kg for reps
5. Atlas Stones: 175/210 kg for reps
6. Medley: Tire Flip (400 kg) and Farmer's Walk (150 kg)

Marcel Mostert and Ilkka Kinnunen will referee, and the total prize money is US$15,000.

Also up from the Strongman Champions League is the Eurosport broadcast of its first contest, held in Latvia, on May 16 at 20:30. "Everybody can see this fantastic show, with the new world record in the Yoke Race," Mostert told IronMind®.