Strongman Champions League: Season Starting at FIBO . . . Feeding into WSM
"The Strongman Champions League (SCL) train starts moving again!" SCL co-founder Marcel Mostert told IronMind® today.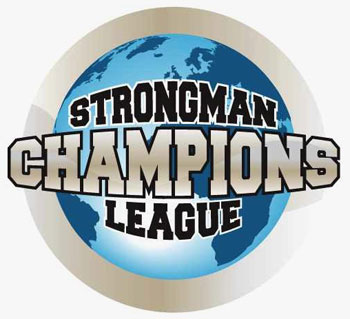 Strongman Champions League in on a roll - with a feeder contest at FIBO this coming weekend, ten major contests on schedule, and a plan to help get its athletes to the 2009 World's Strongest Man contest. IronMind® | Artwork courtesy of Marcel Mostert.

"Slowly we start the new season, at 25 April on the FIBO Strongman Classic, which is a qualifier for the Strongman Champions league," Mostert said."We will see who's the strongest at the FIBO this year. The FIBO increased the prize money every year, and will 'probably have next year' the official SCL Germany status, with a great TV broadcasting all over the world. The best two athletes from this FIBO classic 2009 edition will be guaranteed into the Champions League." For full detail, please visit the official FIBO site.

But that is only the first stop, because as Mostert describes it, "The big locomotive starts his diesel engines at 9 May, with the Strongman Champions League Serbia. There will be top athletes and champions of various countries," with the athletes and the events named next week.

"One week after Serbia already, the diesel starts to get hot, as at 16 May, the second SCL will go off in Finland! The locomotive [continues] with at least 10 stops worldwide. There s a big chance that the Champions League train will run in front of your house!

"The top 5 will have places in the Giants Live tour for qualifying at World's Strongest Man (WSM) 2009," Mostert said. "And also, wild cards for the SCL to WSM will be there at the end this SCL season in August. This means for sure that athletes in the SCL tour will be seen in WSM 2009 this year.

"Finally we made it all possible again that all the athletes have chances to qualify for the WSM, which means in my opinion the WSM will have the strongest field ever in her history! It will be very interesting for 2009! We thank TWI/IMG and Giants Live for these possibilities," said Mostert.

So, jump on that train and show your brute strength, cause once you miss that train, you ll have to cry for another year training in your backyard!