Strongman Champions League: Next Stop is Vilnius, Lithuania
"So, the Champions League train rolls farther," Marcel Mostert told IronMind®, "with its next stop in Vilnius, Lithuania, on 19 July."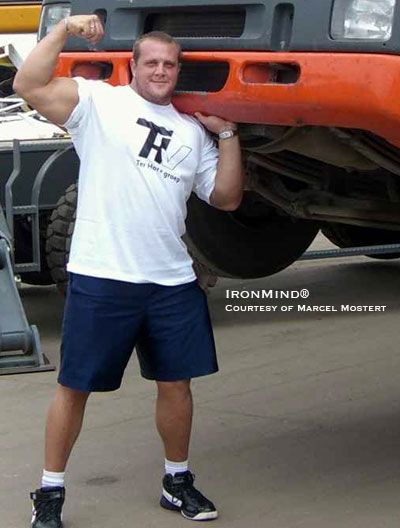 Travis Ortmayer was third in the Strongman Champions League competition in Holland, producing a performance that earned the respect of Marcel Mostert. IronMind® | Photo courtesy of Marcel Mostert.

"It will be spectacular again, as we are going to do a plane pull with a Boeing from Lithuania Airlines. It will give for sure great pictures and filming, as Zydrunas will look small against a plane with its huge wings."

IronMind® has made much of Marcel Mostert's predictions in the past. "People keep asking me about winner predictions," said Mostert, "as I was right again in predicting the winner in Madison Square Garden in the USA. I'm happy for Travis that he won; he showed in our Strongman Champions League competition in Holland already that he was in good shape. We hope to see him back soon in the Champions League for his first win maybe there!"

And as for what he sees in his crystal ball on July 19:

"Well," said Mostert, "it's in the home of our leader, so I think we all can guess it!"