Strongman Champions League - London: Featuring Zydrunas Savickas
He's Mr. Everything in strongman - you would quickly run out of fingers trying to count his victories at the most prestigious strongman contests on the planet . . . and on October 19, you can see him in London, at Wembley Arena.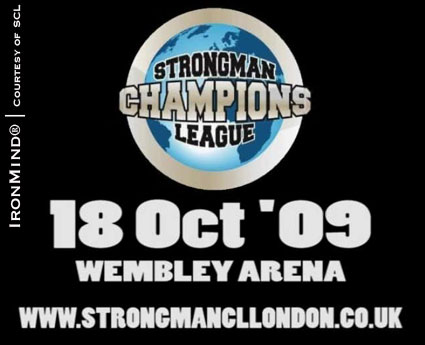 Zydrunas Savickas headlines the card when Strongman Champions League - London comes to Wembley Arena. IronMind® | Artwork courtesy of Sandra Donskyte/SCL.


Perfectly fitting for the occasion, Zydrunas Savickas is the star of the latest trailer for the Strongman Champions League - London contest, which has just been released.

Event organizer Sandra Donskyte told IronMind®, "I am so happy for Big Z!!!" and you will see this level of enthusiasm reflected by the video.

In these days of tight economic conditions, IronMind® would like to pass along a tip: you can save some money buying your ticket ahead of time - prices will be higher on the day of the contest, so plan ahead and save.