Strongman Champions League: Ideapark Competition is Set
Already launching its third competition of 2010, Strongman Champions League cofounder Ilkka Kinnunen told IronMind® today that everything is set for Ideapark, with some of the biggest names on the professional strongman circuit set to compete.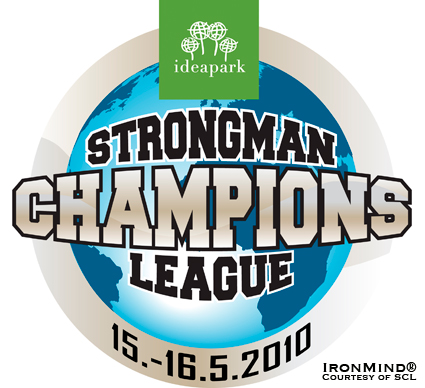 Strongman Champions League is living up to its name as it features a full series of strongman events featuring top competitors. IronMind® | Courtesy of SCL.


"IdeaPark Strongman Champions League, 170 km from Helsinki to North is the place for third SCL event this year," Kinnunen said. "Lempäälä is the city and competition arena is in biggest shopping mall in Finland: IdeaPark. "The competition is two days," said Kinnunen said, with three events on May 15 and four events on May 16.

"The athlete list is tough," said Kinnunen, as he rattled off the starters: Travis Ortmayer, Misha Kokylaev, Terry Hollands, Vidas Blekaitis, Konstantyn Ilin, Johannes Arsjö, Christian Savoy, Agris Kazelniks, Juha Matti Järvi and Jani Kolehmainen.

Finland has a reputation for putting on some of the most demanding strongman contests and Kinnunen plans to uphold that tradition, saying, "The event list is also tough as always in Finland:

Volvo truck pull with harness and rope
Volvo arm-over-arm pull
Farmer's walk with 150 kg each hand for 50 meters
Deadlift for reps with 350 kg
Euromaster wheel flip
Maximum log lift
Sack loading with five 120-kg sacks

Strongman Champion League cofounders Ilkka Kinnunen and Marcel Mostert will referee this contest.

The IronMind® News column will have daily updates from the contest, so stay tuned.