Strongman Champions League Finals & 105-kg Strongman World Championships
"After 9 stages of Strongman Champions League (SCL) we will know on 19 December who
is the absolute winner of the Champions League 2010," Marcel Mostert told IronMind today.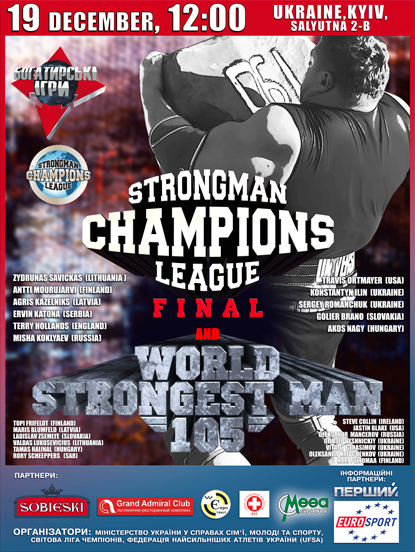 The 2010 Strongman Champions League Finals and the 105-kg Strongman World Championships are set for Kiev on December 19. IronMind® | Courtesy of SCL.


"And on top of that we will do the same weekend the 105-kg Strongman World Championships in Kiev."

"Theoretically, there are still 5 athletes who can win the SCL title," said Mostert. "Terry Hollands is the favorite, as he is leading the in the ranking, but Ervin Katona and Travis Ortmayer are close to him and even Misha Koklyaev will have a chance as there will be double points to earn on this last Champions League event of the season. Five athletes of the start list are finalists from World's Strongest Man this year, so the level is high."

Here is the official start list:

1. Terry Hollands (England)
2. Ervin Katona (Serbia)
3. Travis Ortmayer (USA)
4. Misha Koklyaev (Russia)
5. Agris Kazelniks (Latvia)
6. Zydrunas Savickas (Lithuania)
7. Kostiantyn Ilin (Ukraine)
8. Golier Brano (Slovakia)
9. Akos Nagy (Hungary)
10. Sergei Romanchuk (Ukraine)
11. Antti Mourujarvi (Finland)
12. Ukraine athlete by invite.

"Warrick Brant and Johannes Arsjo (both in the top 10 ranking) couldn't come due injuries," Mostert said. "Therefore the new Finnish strongman Antti Mourujarvi got a chance to prove himself in this strong final. It will be a fantastic final of the season 2010 with the strongest men in world."

Mostert, cofounder of Strongman Champions League, also told IronMind that SCL has released a new trailer this week.

Both the SCL Finals and the 105-kg Strongman World Championships will be six-event competitions Mostert said, with event details to follow.

###


Want to comment on this article or just want to talk strength? Join the IronMind Forum!

You can also follow IronMind on Twitter.