Strongman Champions League Estonia
This coming weekend, the MHP Strongman Champions League is headed to the Estonian capital of Talinn, where a top-flight field will ensure a spirited battle.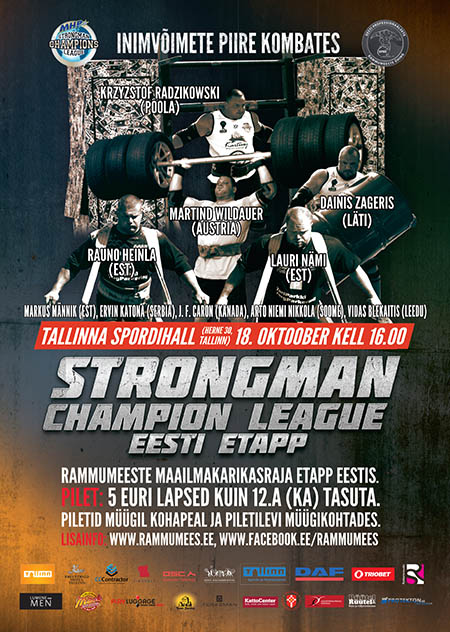 Strongman fans: SCL Estonia is this Saturday (18 October 2014), starting at 4 p.m. (16.00 hours). IronMind® | Artwork courtesy of SCL




Current series leader Martin Wildauer will be fighting to defend his position, and also featured on the start list is the man chasing Wildauer for the overall lead, Krzyzsztof Radzikowski, and Estonia's own, Rauno Heinla—who is the defending SCL Estonia champion and the winner of last week's SCL Lithuania competition. 



"Ervin Katona is suffering a biceps injury unfortunately is not able to take part, but hopefully will recover for the final in Malaysia," Ilkka Kinnunen told IronMind.




Start List
1. Martin Wildauer AUSTRIA
2. Krzyzstof Radzikowski POLAND
3. Dainis Zageris LATVIA
4. Vidas Blekaitis LITHUANIA
5. Arto Nimemi Nikkola FINLAND
6. Bjorn Andre Solvang NORWAY
7. J F Caron CANADA
8. Lauri Nämi ESTONIA
9. Rauno Heinla ESTONIA
10. Markus Männik ESTONIA

Events
Medley: Yoke (385 kg), Farmer's walk (150 kg) Sandbag (125 kg)
Forward hold: 30 kg
Conan's wheel: 320 kg
Medley: Block (100 kg), Log (130 kg, 150 kg), Dumbbell (95 kg), Axle (180 kg)
Atlas stones: 120 kg, 140 kg, 160 kg, 185 kg, 215 kg
Power step: 225 kg, 250 kg, 275 kg

"
Don't forget to watch MHP SCL HUNGARY tomorrow at 23.15 on Eurosport, and here's a link to preview trailer from SCL Estonia," Kinnunen said.

###



Want to talk strength? Join the IronMind Forum.

You can also follow IronMind on Twitter and on Facebook.