Strongman Champions League Enters Brazil
"With a stunning performance by Zydrunas Savickas , live in front of 45 million TV viewers, the SCL has given his visit card to Brazil," Marcel Mostert reported to IronMind.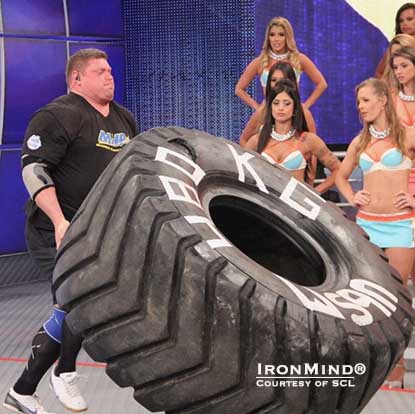 Zydrunas Savickas was the opening act for Strongman Champions League as SCL made a big splash in Brazil and will be returning next year. IronMind® | Photo courtesy of SCL.


"In the famous show Fausto Domingo, we had some special performances and interviews with Zydrunas about his strongman career and about Strongman Champions League entering Brazil.

"It was great to be there in Sao Paulo, in 35 degrees centigrade heat, as it is summer there now. And great to work with the people of Globo T, the biggest channel in Brazil.

"The audience loved seeing Big Z his performance and cheered for more.
We showed them a big truck pull, a deadlift with wheels and tyre flip. Big Z entered the show, carrying a yoke with 4 gorgeous Brazilian girls.

"It was a fruitful trip for Zydrunas and SCL, and SCL already signed a contract for a brand new competition in Brazil next year: The SCL BRAZIL 2013. So, we will be back, with Big Z and more strongman-power.

"Stay tuned for our full calendar next year!

"Click this link to see a big part in a movie of the TV show we made," said Mostert.

###



Visit the IronMind Forum: talk strength, discuss this story. Strongman, grip, Highland Games, Olympic lifting, stones and more.

You can also follow IronMind on Twitter.