Strongman Champions League Coming to London
Continuing to deliver a full season of strongman competitions featuring a mix of established top professionals along with fresh talent, Strongman Champions League (SCL) appears to be thriving: London is the next stop in the 2009 SCL tour, so watch for SCL-London in Wembley Arena on August 22.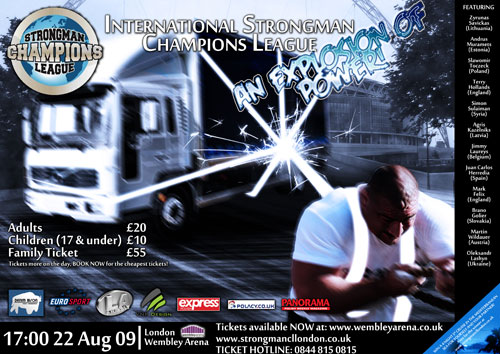 They are on a roll: Strongman Champions League is coming London's Wembley Arena next month, presenting the contest "on a scale which the discipline of strongman deserves," said SCL-London organizer Marco Ruggiero of Denim Bison Events. IronMind®.

"The Strongman Champions League series finally makes its debut in London, at the only venue big enough to contain such power!" opens the official press release and hyperbole aside, the London debut of SCL is big news, indeed.
Here is who is on the card and ready to rumble:
Zydrunas Savickas
Terry Hollands
Andrus Murumets
Slawomir Toczeck
Juan Carlos Herredia
Agris Kazelniks
Simon Sulaiman
Mark Felix
Golier Branislav
Jimmy Laureys
Oleksandr Lashyn
Martin Wildauer

For more details, including ticket sales, please go to the SCL-London website.