Strongman Champions League Comes to Holland
"The Strongman Champions League train goes farther," Marcel Mostert told IronMind®, "with its next stop on June 1 in Varsseveld, Holland."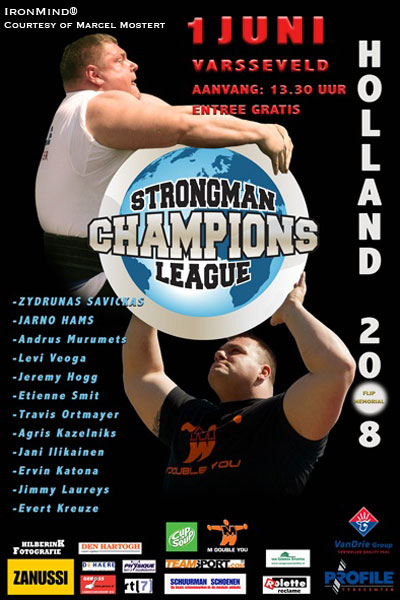 The third stop of the 2008 Strongman Champions League is Varsseveld, Holland, with many of the top names in strongman ready to take part in the strongman series organized by Ilkka Kinnunen and Marcel Mostert. IronMind® | Art courtesy of Marcel Mostert.

"The third Strongman Champions League competition is again filled with a strong field of world champions, European and national champions," Mostert continued. "It all goes perfect and smooth. The athletes are very cooperative, the organizers are happy with their media input, and the sponsors are satisfied. What more can I say?

"On Sunday, June 1, we will shake Holland with truck pulling, Atlas stones, tire flips, yoke races, log lifting, loading, and Conan's wheel. I predict that we will have again a new world record, as we did in Latvia and Serbia this year as well," and if you are like IronMind®, a Marcel Mostert prediction is taken very seriously: "It will be spectacular and our place will be filled with 6,000 spectators," Mostert concluded.

Here's the field:

1) Jarno Hams - Holland
2) Evert Kreuze - Holland
3) Levi Veoga - New Zealand
4) Andrus Murumets - Estonia
5) Zydrunas Savickas - Lithuania
6) Jimmy Laureys - Belgium
7) Travis Ortmayer - USA
8) Jani Illikainen - Finland
9) Agris Kazelniks - Latvia
10) Etienne Smit - South Africa
11) Jeremy Hogg - Australia
12) Ervin Katona - Serbia
13) Boris Milosevic - Slovenia
14) Tom Jansen - Holland

"Who will take the victory, prize money, and the maximum 20 Champions League points in Holland?" asked Marcel Mostert. "Come and watch the third episode of the Strongman Champions League!"