Strongman Champions League: Bratislava, Slovakia Joins 2009 Schedule
Just signed today, Slovakia will host a Strongman Champions League competition in its capital, Bratislava, on June 6, Strongman Champions League co-founder Marcel Mostert told IronMind®.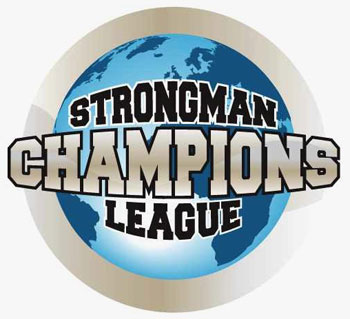 The Strongman Champions League has just signed another contest - putting the 2009 calendar within reach of its 12-contest goal. IronMind® | Logo courtesy of the Strongman Champions League.

Saying there would be "a lineup of 14 top strongman athletes from all over the world - like in every other Strongman Champions League (SCL) competition," Mostert said this pushes the 2009 SCL schedule to 10 contests in total so far, and Mostert also said that he expects to sign a deal for yet another contest "in another country," next week.

"We are very happy that we almost have reached now our goal for 2009, where we spoke of having 12 big competitions, each with US$20,000 in prize money, which means a total of US$240,000 in 2009. We are convinced that we will reach all our goals this year again, and we are working hard to have a good time with our athletes, to give them decent prize money and great exposure on television. Because we think these matters are the basics, this is what counts in the end.

"Unfortunately and as a coincidence, the date of this competition is the same as the competition in Norway [Viking Power Challenge]. However, because there are so many good athletes at the moment around the world, we are sure both competitions can still have a top field on this same day! Therefore, we wish our colleague Svend [Karlsen] also a very good and strong competition on that day! For sure we both hope on good weather at the 6th of June."

For more developments, please check back here and on the Strongman Champions League website.