Strongman Champions League: 2008 Log Lift World Championships
Continuing to expand strongman across Europe, the Strongman Champions League has just announced the details for its 2008 Log Lift World Championships, to be broadcast live on Eurosport and throughout Lithuania.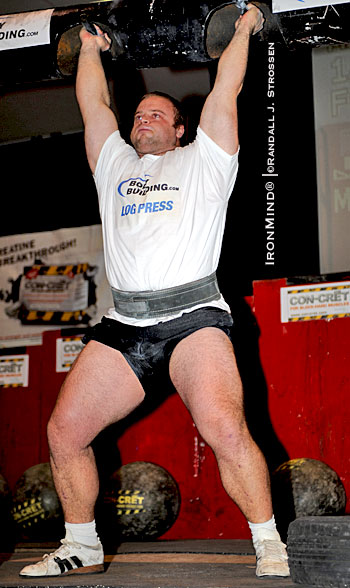 Jason Kristal, shown at the 2008 FitExpo, is capable of producing a top log lift, which would give the newly-turned-professional strongman a lot of added visibility. IronMind® | Randall J. Strossen, Ph.D. photo.

Featuring US$30,000 in prize money, this contest will set the stage for a major assault on Zydrunas Savickas's world record in this event, which stands at 210 kg. The starting weight will be 175 kg, and this is the list of competitors "confirmed so far," according to the contest officials.

1. Zydrunas Savickas (Lithuania)
2. Vidas Blekaitis (Lithuania)
3. Oleksandr Pekanov (Ukraine)
4. Mikhail Koklyaev (Russia)
5. Sebastian Wenta (Poland)
6. Jarno Hams (Holland)
7. Tobias Ide (Germany)
8. Igor Pedan (Russia)
9. Ervin Katona (Serbia)
10. Agris Kazelniks or Raivis Vidzis (Latvia)*
11. Jason Kristal (USA)
12. Oleksandr Lashyn (Ukraine)

*A qualifier will be held in Latvia to choose between these two competitors.

IronMind® was told that the broadcast schedule calls for coverage in 52 countries throughout Europe and Asia. Also, originally scheduled for October 18, the contest has been rescheduled for November 16.

A 31-cm diameter log will be used (the old IFSA log), and here are the basic rules:

1. A round system will be used.
2. There will be three attempts per competitor.
3. Arms must be straight, locked out, and the weight held overhead for one second.
4. Feet must be in a line at the completion of the lift.
5. The log may not be returned (dropped) behind the lifter.
6. "Not allowed to use the head for lifting."
7. The competitor must stay on the marked platform.
8. There will be a 60-second time limit per attempt.

Referees: Ilkka Kinnunen, Marcel Mostert, and Raimunds Bergmanis

Supporting this Strongman Champions League contest, a special website will be launched on October 15, "with history about log lifting, techniques, records, measurements, athlete information, photos, etc."