Strongman Champions League
"We are ready to rock 'n roll this weekend," Marcel Mostert told IronMind®.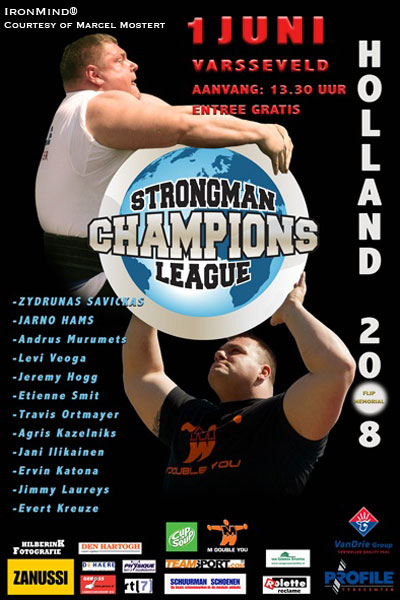 The third stop of the 2008 Strongman Champions League is Varsseveld, Holland, this weekend. IronMind® | Art courtesy of Marcel Mostert.

"The strongmen are coming in Holland today, the weather will be 25 degrees [77 Fahrenheit] this weekend, the equipment is set, the crowd is waiting . . . it is going to be fantastic!"

IronMind® asked Marcel Mostert about the train metaphor he was using to describe the Strongman Champions League, and this is what he said: "On June 1 there is a train stop again, this time in Holland, for the third Strongman Champions League contest. This train is called the Strongman Champions League and it is only there for the strongest and toughest athletes who can survive. The strongest guys will jump on it at each stop, and the weak guys will fall off from it . . . with or without their heads bleeding and their minds devastated because they didn't know before that there is so much brute power existing in the world. We don't care - just survive!"

"The strongman train is running faster, farther and harder. Get your place, fasten your seat belts and go for it! And for those who will survive, we'll see you at the next train stop in Sofia, Bulgaria, on June 21."