Strongman . . . It's for Children
Strongmen - the two-meters tall, 150-kg guys who pull buses, lift stones and flip giant tires for a living - are favorites of . . . women and children, WSM Super Series founder Ulf Bengtsson told IronMind® today.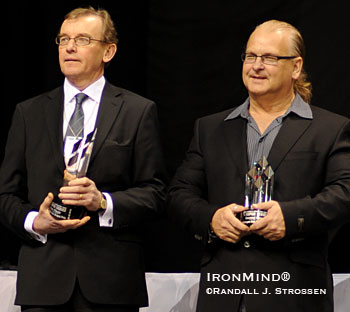 Lennart Blomberg, managing director of Eleiko (left), and Ulf Bengtsson (right), founder and president of World Class Enterprises, which organizes WSM Super Series, get ready to present the trophies at the 2008 Mohegan Sun Grand Prix. IronMind® | Randall J. Strossen, Ph.D. photo.

"Based on my marketing research," Bengtsson said, "strongman appeals to women and children." And applying this realization to the development of the sport makes Bengtsson committed to positioning strongman as family entertainment.

"That's the future of the sport," said the man whose organization has brought strongman to such prestigious locations as the Mohegan Sun Casino and Madison Square Garden, arguably producing the most visible one-day competitions ever held in strongman.

A couple of days before Bengtsson's Super Series competition played to a Saturday night crowd in Madison Square Garden's WaMu Theater in June, they literally stopped the traffic on Manhattan's Fifth Avenue, by Central Park, and also on Seventh Avenue, in front of Madison Square Garden, for strongman demonstrations aimed at building interest in Saturday's contest. And how about the national television coverage on CBS's The Early Show?

Bengtsson is philosophical about the effort and commitment success requires, saying that "The race is won in the last five meters," noting that most people quit far too early. "At first, you do 80% of the work," Bengtsson said, "for 20% of the results." It's the people who hang in there for the next 20% of the work who will reap the final 80% of the rewards, Bengtsson said, and he is showing his commitment to success with the way his strongman series has ratcheted up year by year - and even bigger plans are being formed for 2009.

Quick to praise his hardworking team of people such as Colin Bryce, Andy Quinn, and Odd Haugen, and sponsors like Eleiko, Bengtsson told IronMind® that the Mohegan Sun and Madison Square Garden "are where strongman needs to be" if it is to appeal to the kinds of sponsors and grow the way he envisions. "It's not about returning to parking lots," Bengtsson said. And how can you argue that point after Super Series has brought strongman to world-class venues?

From Bengtsson's point of view, strongman is viable in ways that few others have considered, and given his years of commitment already, somehow it seems appropriate that to take the next stride, to really ring the bell, it should be mere kid's stuff.