StrongFit World Championships at the F1 Australian Grand Prix
"Aussiepower Events and the StrongFit Brand are proud to announce that the StrongFit World Championships will be held at the 2013 Formula 1® Australian Grand Prix next March," Bill Lyndon told IronMind.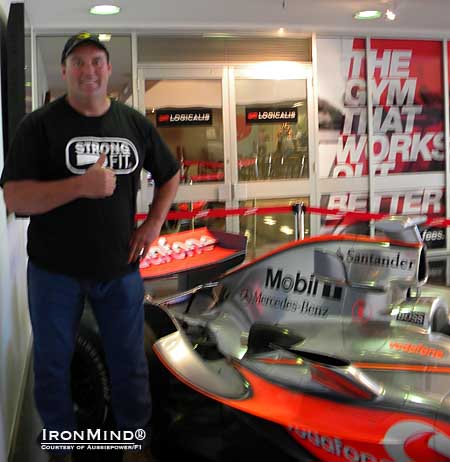 Aussiepower Events' Bill Lyndon has bringing his StrongFit World Championships to the top echelon of auto racing: Formula 1®. IronMind® | Image courtesy of Bill Lyndon/F1®.

"This great opportunity will showcase strongman at one of the world's most prestigious events, The Formula 1® Australian Grand Prix, which takes place around the picturesque Albert Park circuit just minutes from the centre of Melbourne.

"The format for this event will see four shows over four days with a StrongFit World Champion crowned at the end of each day. Strongfit will be located in the golf course precinct near the Brocky's Hill viewing area and will be sure to be seen and supported by some of the thousands of motorsport fans that visit the event over the four days.

The StrongFit divisions are as follows:

U90 K.G. StrongFit World Championships.

Women's Open StrongFit World Championships

StrongFit Live 105 World Championships.

StrongFit Heavy Weight World Championships.

All the events will be presented in an Auto theme to suit the motorsport
event.

• Truck Axle Deadlift
• Viking Press
• Super Yoke
• Stones
• Farmers walk
• Car Walk

"We have places open for international athletes and we will be taking the top eight Strength Quest scores via our www.strongfit.com.au strongman grading system which for this event is an Elite One standard as a minimum for entry," said Lyndon.

### 



The IronMind Forum: discuss this article, talk strength, get help with your training.

You can also follow IronMind on Twitter.