Strength Secret of the Stars: Saturday Workouts
Want to know to know a secret for getting stronger? Hint: It has a lot to do with what you're doing tomorrow.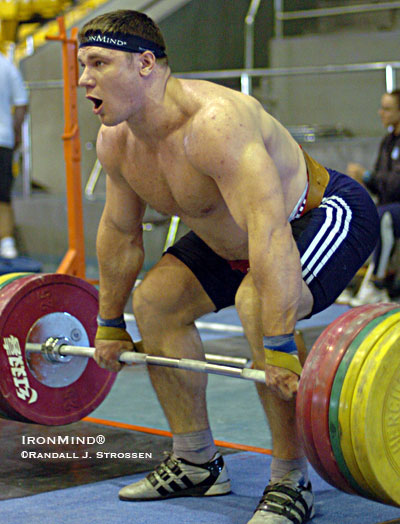 Hard at it in the training hall at the 2007 World Weightlifting Championships, Russia's Evgeni Tchigishev is a favorite for a medal in weightlifting's super heavyweight class at the Beijing Olympics - you can bet that he's had plenty of memorable Saturday workouts in his career. IronMind® | Randall J. Strossen photo.

It's no accident that Saturday workouts have a longstanding tradition in the strength world - for a lot of people, Saturday is the biggest day of the week, and the time when PR performances are most likely to occur.

Whether you're new to this idea, already have a pile of fond Saturday workout memories, or are making big plans for what's going to happen for you on many Saturdays down the road, be sure to read the latest "Schmitz on the Lifts" by going to the Training Articles button at the top of the IronMind® home page and selecting "Schmitz on the Lifts."