Stonelifting Tour: Iceland 2007
We don't know how many Ivy League educated MDs visit Iceland to do battle with giant stones, but one who does is Dr. William Crawford.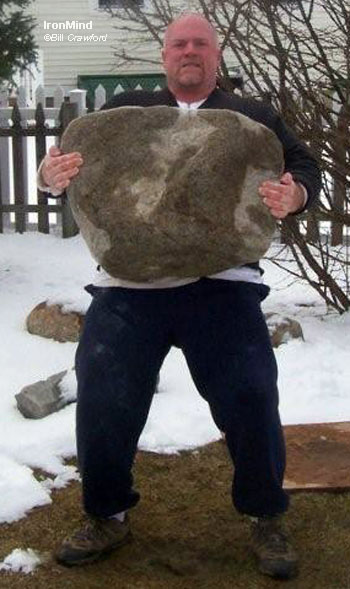 "How do you train to carry a heavy stone? Carry heavy stones." And that's just what Erik Sauve is doing. IronMind® | Photo by Bill Crawford.

MILO® readers know Bill Crawford has already joined the mighty group of people who have successfully made the full sterkur with this legendary testing stone.

Steve Jeck and Peter Martin's book Of Stones and Strength introduced the lifting world to the special magic of the classic lifting stones and Bill Crawford is quick to credit this book and Steve Jeck's DVD Kviahellan: The Pen Slab for firing up himself and Erik Sauve when they shook hands with the stone in person last year.

Back for more this year, Bill Crawford, Erik Sauve, Dana Florence and Robert Troupe will be locking up with Kviahellan and the Dritvik Stones, not to mention spending some time with such great names in the Icelandic strength community as Petur Gudmundsson and Hjalti Arnason. Appropriately enough, the T-shirt that Bill Crawford designed for the trip is emblazoned with Jon Pall Sigmarsson's famous line Petta er ekkert mal ("It's no problem for Jon Pall"). Off to Iceland on Friday, the group will return next week, but don't think these guys just rolled out of bed one day and decided to do this.

"We have trained with heavier stones and with more intensity than last year," Bill said, which means some pretty serious preparation underlies this journey. Earlier, Bill had told IronMind, "We are still getting snow here in New Hampshire, but we shovel the snow out of the way and carry the stones. Good stone lifters train in the rain, snow and cold because you need to be ready, mentally and physically, for the conditions of a stone lifting tour as anything can happen. Again, 'It is better to cry in the dojo, than to weep on the battlefield.'"

With training like this, can you doubt Bill when he says, "Honestly, I am more than ready to make this trip."

Bon voyage!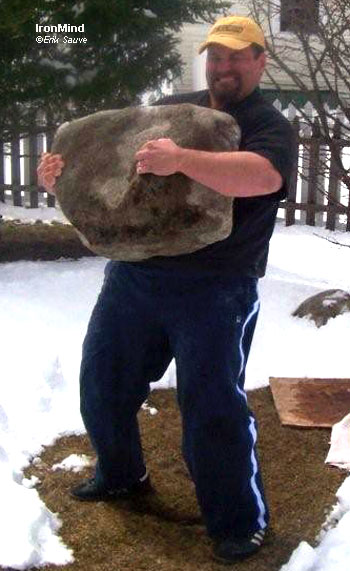 Bill Crawford, undaunted by the snow on the ground, ready to roll with a 400-pound rock. IronMind® | Erik Sauve photo.