Sticks and Stones in Pleasanton
The Caledonian Club of San Francisco is once again hosting the Highland Games Heavy Events U.S. and World Championships in Pleasanton, California and Athletic Director Steve Conway is predicting a tremendous battle for top honors.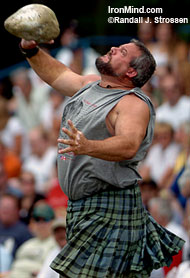 Ryan Vierra added another Highland Games World Championships title to his collection in 2005. Come to California in September and watch Ryan defend his crown. IronMind® | Randall J. Strossen, Ph.D. photo.

This year "promises to be one of the closest U.S. and World Championships yet," Conway said. "Ryan Vierra has to be looking over his shoulder at an ever improving group of U.S. athletes and a strong challenge from the international throwers."

The pro field is exceptional and here is the list of competitors who have been invited to the 2006 Highland Games Heavy Events World Championships: Harrison Bailey III, Dave Barron, Kyrylo Chupryin, Sean Betz, Larry Brock, Dave Brown, Greg Hadley, Pat Hellier, Kerry Overfelt, Joel Thiessen, and Ryan Vierra.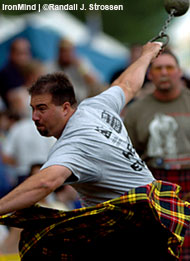 Sean Betz pressed Ryan Vierra every step of the way at the 2005 World Championships - watch the sparks, and everything else, fly in Pleasanton this year. IronMind® | Randall J. Strossen, Ph.D. photo.

Labor Day weekend is the date for the showdown in Pleasanton, California - there's something for everyone, so mark your calendar and plan to be part of the fun this year. For all the details on the weekend, please check the Caledonian Club of San Francisco's official website.