In a week and a half, the world's top Highland Games competitors will descend on the motherland to see who will claim the 2007 World Championships title . . . the sticks and stones will be flying, the battles should be close and the marks are expected to be big.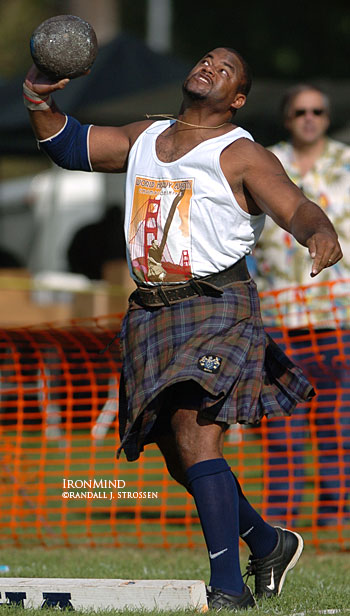 Harrison Bailey III (aka HB3) is one of the heavies who will be chasing the defending Highland Games World Champion, Ryan Vierra. IronMind® | Randall J. Strossen, Ph.D. photo.

The Inverness Highland Games, with its 19th-century roots, is the setting for what is expected to be quite a tussle for defending champion Ryan Vierra's crown. Lending us his keen eye, referee Steve Conway mapped the field of battle for IronMind®:

"The Worlds are shaping up to be a great competition. Ryan Vierra seems to be fully recovered from his back injury and is throwing at top form. Larry Brock recently beat both Bruce Aitken and Ryan at the World Hammer Championships. Sean Betz beat Ryan and Larry for an overall win in Ohio with some great throws. HB3 should be recovered from a slightly torn bicep and Dave Barron is always up for the big competitions. Bruce Robb, Gregor Edmunds and Scott Rider seem to be peaking at the right time, and Greg Hadley just won another Canadian Championship.

"Of course, the combined talents of Bruce Aitken, Kyrylo Chuprynin and Wout Zylstra should make the weight for height, hammers and caber events a battle.

"The overall is anybody's guess; one weak event could prove to be the difference when you have a talent pool as deep as this group.

"I'd look for close contests in all the events, with possibly the weights for distance and the weight for height being extremely tight."

If you're looking for an excuse to go to Scotland next week, this is about as good as it gets.