Steve Jeck Joins the Faculty of Knox Theological Seminary
He's the man who put the Inver Stone on the modern map, IronMind's "man of pen and stone," who along with Peter Martin Sr. wrote the book Of Stones and Strength, which became both an inspiration and a guidebook to the world's manhood stones—and now, Steve Jeck, freshly graduated, is about to take the next step in his career.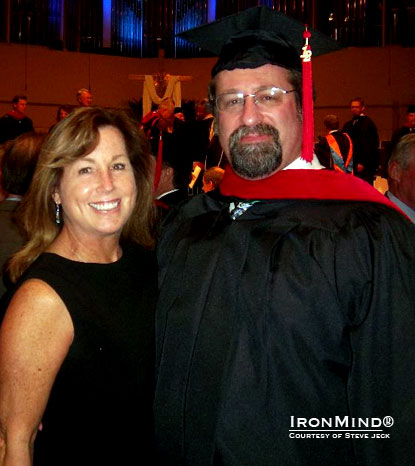 Steve and Cathy Jeck at the Knox Theological Seminary graduation ceremony, held at the Coral Ridge Presbyterian church in Ft. Lauderdale, Florida. IronMind | Photo courtesy of Steve Jeck.


"Well, the path was winding and loaded with big stones, but by God's grace—I made it!" Steve Jeck wrote to us [Randall Strossen and Elizabeth Hammond] in late May, in an allusion familiar to all who have read Jeck's inspirational book The Stone Lifter.

"This past Friday I graduated from Knox Theological Seminary, Master of Arts in Christianity and Culture," and we might add, Steve graduated summa cum laude.

"You guys kept faithfully checking in, 'So how are things going at the seminary?' So, I just wanted to let you know that one peak has been ascended! Thanks for the encouragement, good vibes and prayers along the way!"

We were elated and wondered what was next for Steve and today we found out.

"Well, I finally have an answer for the question: 'What comes next after graduating from Knox?' I was offered, and accepted, the position of Program Director of the Master of Arts in Christianity and Culture [MACC] at Knox Theological Seminary!

"I will oversee course content, communicate with present and prospective students, promote the program, etc., etc. This is a real step up on many levels and obviously an answer to prayer.

"The MACC program is obviously built on the foundation of Scripture, but also features the great literary works that shaped and informed Western, Christian thought and civilization—starting with Plato and making stops along the way with Augustine, Aquinas, Dante, Milton, Shakespeare (we even throw in some Machiavelli and Nietzsche to season things up a bit) . . . cool stuff, needless to say.

"Anyway, I start on Monday, July 2 and for the first time in . . . well, forever, I'm chomping at the bit to get to work.

"Just wanted to shoot you guys the good news!"

Good news? How about great news: for Steve, Knox Theological Seminary, its students, and, frankly, the rest of the world, too.

Here's to Steve Jeck—congratulations!


###

The IronMind Forum: discuss this article, talk strength, get help with your training.

You can also follow IronMind on Twitter.