Steve Jeck: Back From His Quarry
It began as a MILO® letter to the editor in 1994: Steve Jeck would put the Inver Stone on the map and suddenly previously ignored stones around the world started getting looks filled with awe, pride, lust, and in some cases, downright fear.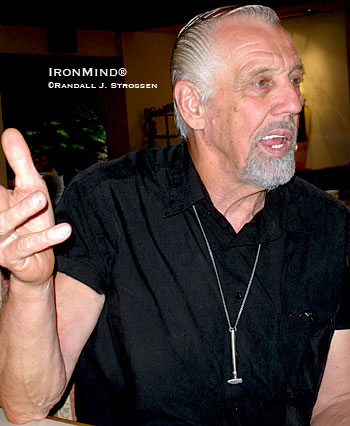 Fifty years ago . . . and now, too, most likely. Read Steve Jeck's latest piece, come back, look at this picture of Slim the Hammerman, taken at the 2006 AOBS dinner, and all the pieces will fall into place. IronMind® | Randall J. Strossen photo.

What a start, but more was coming because among other things, Steve Jeck, it seems to IronMind®, is a TV producer's dream, and if you wonder what we're talking about, grab a copy of his Cellar Dwellers DVD. And while you are waiting for it to reach you, get warmed up by digging into Steve Jeck's latest offering From The Quarry - this is Steve Jeck's online offering of thought pieces that will fire your neurons in more ways than one.

Click the link above or follow the menu from the Training Articles button at the top of the IronMind® homepage.