Stefán Sölvi Pétursson: Preparing for World's Strongest Man
IronMind checked in with Stefán Sölvi Pétursson to see how the young, personable strongman from the Land of Fire and Ice was doing—celebrating his 25th birthday at the Giants Live–London contest, we knew that Stefan was nursing an injury and had his eye focussed on the World's Strongest Man contest later this year.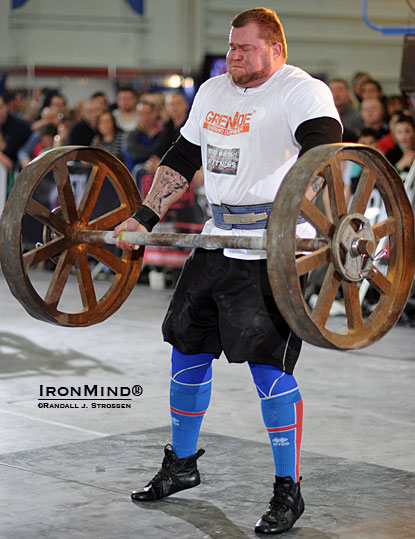 He had to cope with some shoulder pain at Giants Live–London earlier this year, and that was followed by a torn pec, but that's just another day in the life of an Icelandic strongman, right? IronMind® | Randall J. Strossen photo.


"Training is going extremely well when considering I tore my pec April 2nd doing bench presses," Stefán Sölvi Pétursson said.

"I had surgery to repair it 10 days later and its now a little over 8 weeks since the operation. I've already started strongman training and I feel great!

"This does not seem to bother my overhead lifts that much. Of course, I'm taking things slowly and progressively, adding weights each week.

"I will do one or two contests here in Iceland as training for the World's Strongest Man contest which I am already qualified for through Giants Live. I still have 10-14 weeks until World's so I'm confident I will show up stronger and better than ever!"

Incidentally, earlier this year, Stefán Sölvi Pétursson started an online personal training business, "be it for strongman, powerlifting or any other strength sports," and he recently "started a little game on Facebook where people can win one month customized training program," so if you want to tap into the knowledge of an Iceland's Strongest Man winner, a World's Strongest Man finalist and someone who has carried the actual Husafell Stone the full distance, you know where to go.

###



The IronMind Forum: discuss this article, talk strength, get help with your training.

You can also follow IronMind on Twitter.