St. Louis has been flexing its muscles again.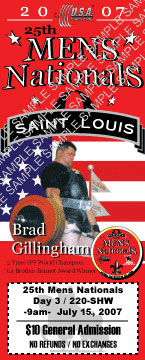 Rick Fowler designed commemorative tickets for the USAPL Men's Nationals in St. Louis this summer, with a different ticket for each of the three days of competition. Brad Gillingham is one of the three lifters who is honored this way: "We are very proud of Brad and what he has accomplished," Rick Fowler told IronMind®. IronMind® | Artwork courtesy of Rick Fowler.
Last Friday, "We held a benefit for the St. Louis Police Department Powerlifting Team who will be traveling to Australia for the Police Worlds," Rick Fowler told IronMind®. "As part of the entertainment, Brad Manion, who is our local grip expert did some bending. He has followed a lot of what John Brookfield and others have done and is very inspired by all of their feats. He has done plenty of bending at our contests, but never anything on the clock until now."
Brad brought fifty 60-penny nails and it was his goal to see if he could bend all 50 of them them in less than 20 minutes. "With over 100 police supporters cheering him, I timed him and Brad tore through them in just under 10 minutes! It was very well received and the police were appreciative of him doing his demonstration. Afterwards several people, kids included, came up to get a nail as a souvenir."

Also, Rick said, "Pat Rankin's God, Guys and Guts was a huge success this weekend. Twenty-four competitors entered this fundraiser for Pat's church, Have Bible Will Travel. There was a band, food, and the God Squad performed traditional feats of strength. Justin Wheeler won the lightweights and Jared Davis won the heavyweights. We would like to thank Wayne Eilermann for his support in this event. It would not have been possible without Wayne's generosity." For full results, please check the USAPL Nationals website.

Rick said that Wayne Eilermann wasn't just instrumental in supporting this event - he's the one who originally suggested it to Pat. Rick also explained that the proceeds from the contest go into the Benevolence Fund at Pat's church and they are used to help families make ends meet. "This money is for people in serious need . . . this could help put food on the table," Rick said.

And coming up in July in St., Louis, Rick said, is the USAPL Men's National Championships. If you get lost in the alphabet soup of powerlifting federations, just remember that this is the gateway to the IPF World Championships. "This is the fifth time we are holding this event in St. Louis," said Rick. "I've been coming to this since 1988, when I was 18. I'm married to it." For full details on this contest, please check the official USAPL website.