St. Charles Turns Back the Clock
"It was a throwback," someone said to Rick Fowler, giving the Fourth of July St. Charles, Missouri strongman contest a huge compliment, because this is Jim Davis country, the neck of the woods where he and Cadillac Jack's gave such big name strongmen as Phil Pfister their start, and Jim's contest was like turning the clock back: a simple presentation of strongmen playing to the crowd, and everyone loved it.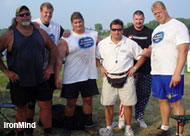 Jim Davis, Dave Ostlund, Mark Philippi, Rick Fowler, Karl Gillingham and Phil Pfister get together down by the river. IronMind® | Photo courtesy of Rick Fowler.

Contest highlights included Dave Ostlund winning the tire flip, Mark Philippi's impressive arm-over-arm truck pull, Pfister on the stones, and Karl Gillingham winning the Conan's wheel, Fowler said.

"I really put Karl on the spot when I interviewed him in front of the crowd and he was very entertaining," Fowler said. "I asked him about his dad [Green Bay Packer great Gale Gillingham] keeping Karl and his brothers [IPF world champion Brad Gillingham and grip master Wade Gillingham] in line when they were growing up. Phil [Pfister] was outstanding with the kids, as usual."

The guys expressed how happy they were to be back in the St. Louis area, where Jim Davis got the ball rolling, Fowler said, and for this show, there were some added dimensions, as Andy Oaker - a 2008 Olympic hopeful in the shot put - took a few throws, Brad Manion performed traditional feats of strength, IFBB pro Dr. Dean Westerfield did a posing exhibition, and Matt Steel - a driving force behind putting together this contest - played on both Monday and Tuesday.

Welcome back, Pirate!