Southern Hemisphere's Strongest Man/Australia vs. South Africa
"With the Giants Live at the Melbourne FitX taking place this weekend as the first qualifying event for World Strongest Man 2013, we are running on the Giants Live scoresheet a second scorecard being The Southern Hemispheres Strongest Man and on day two of the FitX Southern Hemisphere's Strongest Man Under 105, which will have the main pool of Athletes coming from South Africa and Australia," Bill Lyndon explained to IronMind.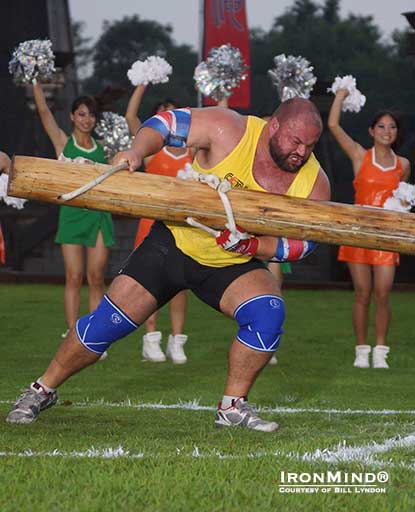 Who will prevail, the Vikerboks or the Vikeroos, and who will get the golden invitations in the first qualifier for World's Strongest Man 2013? Warrick Brant (shown competing in SCL China) will be representing Australia and is expected to be big factor in the final outcome. IronMind® | Photo courtesy of Bill Lyndon.


"Both Australia and South Africa have a fierce rivalry in many sports including rugby and cricket being the main staples, but with this strongman challenge a new test arena has been established between the newly named teams' mascots the Vikerboks (South Africa) V's the Vikeroos (Australia), which is sure to start a fierce rivalry in strength sports across our very big pond.

"The Southern Hemisphere athletes in the Giants Live [World's Strongest Man qualifier] are:

Gerhard Van Staden—South Africa.
Frankie Schuen—South Africa.
Tristen O'Brien—South Africa.
Eben Le Roux—Australia.
Marc Wells—Australia.
Jordan Steffens—Australia.
Warrick Brant—Australia.
Robert Kilpatrick—Australia.

Events for the Giants Live @FitX / Southern Hemisphere's Strongest Man:

Super Yoke & Keg Carry: 25 meters.
Overhead Medley: Axle, Giant Bell, Log, Large Keg
Farmer's Walk: 175 kg
Deadlift: reps
Shouldering Stone: reps.
Loading

"As a second part to the International Challenge we will have a top field of athletes in the <105 Southern Hemispheres Strongest Man (the first) with a fast paced 5-event 2.5-hour show.

"These are the competitors for Southern Hemisphere's Strongest Man under 105:

Gerhard Taljart—Sout Africa.
Frikkie Page—South Africa.
Willie White—South Arica.
Nick Maloni—Australia.
Karlo Briski—Australia.
Aaron Scarbourgh—Australia
Andrew Roberts—Australia.
Jacob Rasmussen—Australia.
Joel McLeod—Australia.
Liam Orkinski—Australia

<105-kg Events:

Yoke
Deadlift Reps
Viking Press
Farmer's Walk
Keg Carry

"We will add all scores for the top three Australians and the top three South Africans in each division to establish the winning nation to hold the title above the two individual titles: Southern Hemispheres Strongest Man Open and Southern Hemispheres Strongest Man U105 for the Team Cup named S.H.S.U. (Southern Hemisphere's Strongman Union)

"Team Champions, on top of this great new international initiative for these two sporting rivals the Southerners are preparing to show the Northerners that they will need to perform at their absolute best to wrestle the three spots on offer for World's Strongest Man 2013 from the main Event Giants Live @FitX Melbourne, Australia," said Lyndon.

###



Visit the IronMind Forum: talk strength, discuss this story. Strongman, grip, Highland Games, Olympic lifting, stones and more.

You can also follow IronMind on Twitter.