Southeast Armwrestling Challenge: "Let Them Pull"
James Retarides calls the action for IronMind® at the Southeast Armwrestling Challenge, where some of the top names in armwrestling stepped up to the table.



Super heavyweight action at the Southeast Armwrestling Challenge: That's Dave Chaffee (left) and Walther (right). IronMind® | John Wilson photo.


Waging Armed Combat at the SEAC

By James Retarides

"Come on, let us pull," said Kent Buckalew as he stomped away from the armwrestling table. Buckalew, a former professional boxer, was responding to a foul called on his opponent, national champion Mark Harrison. "Let them pull, let them pull, let them pull," the crowd began to chant in unison. Though Buckalew would later go on to lose the match and place third, his determination to hold up Harrison's powerful hook was one of many memorable images from the Southeast Armwrestling Challenge (SEAC), which took place 7 November 2009 at the Extreme Ice Center in Charlotte, North Carolina. "Mark (Harrison) is a really good guy," said Buckalew, following his loss. "He really wanted to finish that match as bad as I did."

The SEAC featured some of the toughest classes and challenge matches this year in the world of armwrestling as national and world champions traveled from Sweden, Canada and 17 states to compete. Perhaps the culmination of the tournament was a best-of-five supermatch between two American legends of the sport, Chad Silvers and Bill Sinks. Though Silvers, a five-time world champion, came in the overwhelming favorite, Sinks pulled out a hard-fought upset, beating Silvers in three of the toughest matches of the day. With his characteristic scowl and his intense and bulging stare, Sinks outlasted the South Carolina Freight Train in a top-roll maneuver after the competitors slipped grips and went to the strap twice. And he beat Silvers out of the strap after a long finger pull in match three. "Now that was fun," Sinks said as he walked away from the table and disappeared into the crowd. "Chad is always a tough, tough competitor."

Perhaps equally as impressive was the dominant performance by Malin Kleinsmith of Stockholm, Sweden. The two-time WAF Worlds silver medalist beat American heavyweight Cindy Looney with ease in a best-of-five supermatch and then went on to dominate all three of the women's weight classes right- and left-handed although she weighed in at a mere 140 lb. "Cindy (Looney) is a very good armwrestler," Kleinsmith said following her supermatch. "I could feel that she was really strong so I had to be very fast."

Though also giving up 70 lb. to his supermatch opponent Dave Chaffee, Mike Selearis fought hard in a losing effort, but came back to win the super heavyweight left-handed weight class over Chaffee in dramatic fashion. Chaffee went on to win the men's right-handed supers and the right-handed overall award as well.

In other best-of-five challenge matches, reigning national champion Danial Worley steamrolled Noah Sanders 3–0. Chris Heath outlasted Jeremy Wiswell 3–1, and Adis Turcinhodzic dismantled Alex Jigalko 3–0. In another upset, Angel Cosme put on a clinic, defeating Matt Harris, a man many believe to be the best pound-for-pound left-handed armwrestler in the U.S. "No one gave me a chance," Cosme said after his third victory over Harris. "Matt (Harris) is a great competitor, but I just believed I couldn't lose today."

In the right-handed open weight classes, up-and-coming lightweight Kris Mikels won the 155s over reigning national champion Mark Harrison. The two pullers fought two hard inside hook matches. While Harrison kept a close tuck, diving behind his arm in a shoulder roll, Mikels patiently waited him out, earning a hard-fought victory. At 180 lb., Anthony Snook defeated Steve Shoemaker twice to earn the title. Aaron Blevins, the strong hook puller, took third in that stacked weight class.

In perhaps the most difficult weight class of the year in American armwrestling, Jigalko avenged an early challenge match loss to take first place over Sinks, who bested Turcinhodzic in three grueling strap matches. "I am happy that I pulled the open class," said Jigalko of his decision to enter the tournament following his supermatch defeat. "It was a really stacked class." This weight class featured 18 of the toughest competitors in the country and six former national champions.

Jigalko's teammate, Fritz Corey, won the 230-lb. class, toprolling Terry Burgin for the title. Though he walked away from the table shaking his head in disgust, Burgin managed to beat John Wilson to earn second place after a long day of pulling.

In the super heavyweight class, Chaffee's biggest challenge came from local legend Paul Walther. Walther, who took second at the national championships this year in the 242 class, beat super heavyweight national silver medalist Shawn Turner with two fast inside hits, but he couldn't manage to get past Chaffee's gigantic hand and superior wrist strength.

In the left-handed lightweight class, Mikels repeated as SEAC champ, defeating reigning national champion Jason Bushnell. Derrick Mattera took third. Snook also won with both arms at 180 lb., upsetting Cosme for the title with his superior rotation in the straps.

The Florida team dominated the 230-lb. class left-handed as Alper Cosar managed to outpull Chuck Hoffman. Though Cosar beat him early on, Hoffman came back in the finals, defeating Cosar in a hook to even the score at one. With a big hit in the final match, Cosar was able to get position and ultimately the victory in that class.

But the man of the day in the left-handed classes was Selearis, who managed an easy victory in an otherwise powerful 205-lb. class and showed his dominance over Chaffee left-handed in the super heavyweight class with incredible hand control. "Gotta give Mike Selearis all the credit in the world," Chaffee said. Selearis accepted the challenge match two weeks prior to the tournament after Chaffee's original opponent, Rob Vigeant Jr., backed out. "He deserves it for taking the match on such short notice even though he was giving up a metric ton to me," added Chaffee, one of the premier heavyweights in the sport. "And then right after our supermatch, he asked me if I was pulling left-handed in the tournament, and he went right over to the scorers table and entered my weight class because he wanted to get me back. And left-handed he did just that. He is strong as hell and a class act for sure." Selearis would go on to win the overall relatively easily over Snook.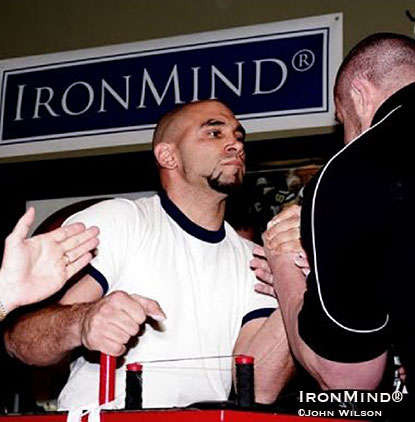 Mike Selearis was, "The man of the day in the left-handed classes," James Retarides told IronMind®. IronMind® | John Wilson photo.