As a way for guys to "show their stuff, set PRs and have fun," Steve Belanger is hosting a gathering of southern California grippers and benders at his home on December 11.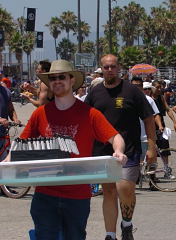 "Grippers . . . get your grippers." Mike Wayne (left) carries in the goodies, so that he and Clay Edgin (right) could have some fun at Muscle Beach this summer. IronMind® | Randall J. Strossen, Ph.D. photo.
Steve said that even though this is in Southern California and will include such strong-handed guys as Clay Edgin, "any grip and bending enthusiasts whatever their experience and from anywhere are welcome."

Steve expects this to run all day, and you can contact him at bigsteve057@hotmail.com or Mike Wayne at mwayne@cox.net for all the details.