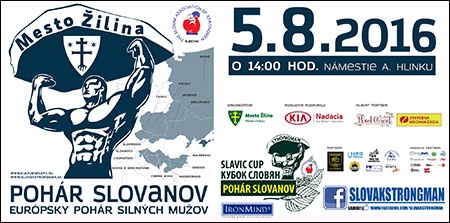 "After a year again in Zilina, in the Hlinka square, gather the strongest men from Slavic countries,"  Pavol Guga, general manager of the Slovak Association of Strongman (SASIM), reported to IronMind.

"The Slavs Cup is special and the only event of in world of its kind, organized by the Slovak Association of  Strongman," said Guga.


Events
Dumbbell: 100kg for reps
Car deadlift
Truck pull: arm over arm
Atlas stones: 150kg for reps
Farmer's walk: 120kg & 150kg


Competitors
Peter Rekenei - Slovakia
Branislav Golier - Slovakia
Konstantin Ilin . Ukraine
Robert Cyrwus - Poland
Jiří Vytiska - Czech republic
Nemanja Tasič - Serbia
Volodymyr Tsifra - Belarus
Ivan Hryhorovskyy - Ukraine
Krystian Zlatkow - Macedonia
Ivan Yanakiev - Bulgaria
Tarek Shtewi - Montenegro
Marian Dimitrov - Russia



Referee - international referee, Pavol Guga
Organizer - Slovak Association of Strongman, Milan Gabrhel

The action begins at 14:00 (2:00 pm) on August 5 and here's a link to a video of last year's Slavs cup: https://www.youtube.com/watch?v=RMIzoEX0ulk

                                       ###



You can also follow IronMind on Twitter and on Facebook.                        



Want to talk grip, strongman, weightlifting . . . everything strength? Visit the IronMind Forum.