Skakun Over Batsiushka in the Women's 63-kg Category
Athens – In the end, it was the world record holder in the snatch, Hanna Batsiushka (Belarus), versus the world record holder in the clean and jerk, Nataliya Skakun (Ukraine), in the women's 63-kg category.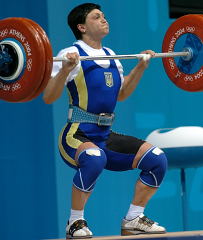 Sailing under the bar on what was the gold medal lift, Nataliya Skakun (Ukraine) nailed this clean and jerk for an Olympic record and the gold medal. IronMind® | Randall J. Strossen, Ph.D. photo.


The field narrowed as Karnam Malleswari (India) withdrew after her first attempt in the snatch, and Anatasia Tsakiri (Greece) wasn't able to stand up with 117.5 in the clean and jerk, but with the world's best in the snatch and in the clean in jerk still in the hunt, things were going to be exciting.

Batsiushka had nailed three snatches (105, 110 and 115), breaking her own world record on her third attempt, to give her a 7.5 kg lead over Skakun. Skakun had also made three good lifts, but finished with 107.5 kg. To make things better, Skakun, besides having a powerhouse clean and jerk, was lighter. Batsiuhka made an effortless first attempt clean, 120 kg, but missed the jerk. She came back to make it, and then a nice 127.5 on her third attempt. Skakun had opened with 125 and the jerk looked almost too powerful. Knowing that she needed 135 kg for the gold medal, that's what she took on her second attempt, for a good lift. Tatsiana Stukalava (Belarus) won the bronze medal with 100/122.5.