To some it might be a grip contest, and it will include what promises to be a big one, but more than that, on June 24, Richard Sorin is hosting a reunion of grip guys - from the ones who blazed the trail, to the young guys who are out there pushing the bar higher and higher.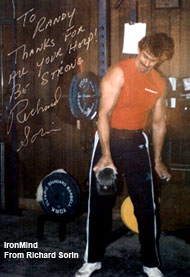 He was re-doing a weight room, saw some old York 100-pound dumbbells, and one thing led to another: Richard Sorin could pinch grip the end cut off one of these puppies, calling it "The Blob." A lot of people who came along since, trying to replicate this benchmark feat of grip strength, have called it a lot worse. IronMind® | Photo courtesy of Richard Sorin and Randall J. Strossen, Ph.D.

"Everyone is welcome," said Richard Sorin, and besides issuing a select number of personal invitations, IronMind® is cordially extending an open invitation to everyone certified on a No. 3 or No. 4 Captains of Crush® Gripper to be there - Richard Sorin will always be the first guy IronMind® certified on its No. 3 Captains of Crush® Gripper, setting the standard that would inspire countless guys in the coming years, so what better time and place to stop by, say hi, and shake some hands.

Richard Sorin once told IronMind®'s Randall Strossen that he wanted to have a fun get-together for lifting guys and in homage to the great and noble gorillas, he suggested the name Silverback Society. Be in Irmo in June and you'll have a chance to hang out with the great gorillas of the grip world: past, present and future.

See you there.