Shimkova Manhandles 63-kg Women at the Europeans
Sofia, Bulgaria - Although Svetlanda Shimkova (Russia) was in a class by herself, manhandling this women's class, there was plenty of excitement in the battles for the silver and bronze medals.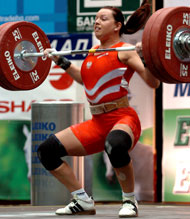 Dominika Misterska needed to clean and jerk 122.5 kg in order to bump Gergana Kirilova (Bulgaria) from silver medal position in both the jerk and the total, and that is just what she did. IronMind® | Randall J. Strossen, Ph.D photo.
Gergana Kirilova absolutely ripped her snatches, ending with 100 kg that would give her the silver medal. Showing the same spirit in her clean and jerks, she got buried when she racked 120 kg on her second attempt and even with obvious elbow touch, she didn't get the down signal, fought her way up, got the bar overhead, only then to finally get red-lighted.

Dominka Misterska (Poland) also sparked the competition, making a must-have 122.5-kg jerk to overtake Kirilova in the jerk and in the total. Shimkova did 105 and 130, for three gold medals.