Shi Zhiyong Wins the 69-kg Duel in Rio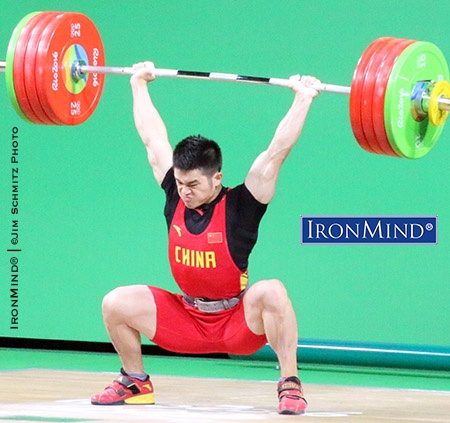 Another very exciting day and close competition with China coming out on top in both the men's 69s and the women's 63s," Jim Schmitz reported from Rio.





Rio Report: Men's 69-kg Weightlifting
by Jim Schmitz


The Turk lifter Daniyar Smayilov and Shi Zhiyong (China) went lift for lift in the snatch, as both did 156 and 160, then Shi did 162 followed by Smayilov's 163.  



In the clean and jerk, Smayilov did 181 and 185. Shi opened with 188, which Smayilov also did, for a 6-for-6 day and a PR total by 1 kilo.  



Shi did 190 for his 2nd attempt, winning the Olympic Gold Medal by 1 kilo, with his 352 total to Smayilov's 351.  



Shi now took 198 to break the world record in the total: he cleaned it very well, squat jerked it, but lost it as he tried to stand up.  

Smayilov has a unique jerk technique, wide split and back foot turned out, very similar to 2012 105-kg Olympic champion, Oleksiy Torokhtiy.  



The Bronze medal went to Kyrgyzstan's Izzat Artykov, who beat Colombia's Javier Mosquera by 1 kilo, 339 to 338.  This is the first Olympic medal won by a Kyrgyzstan lifter since Kanybek Osmonaliev won the Gold Medal in the 52 k class at the Moscow Olympics in 1980.


                                       ###



You can also follow IronMind on Twitter and on Facebook.                        



Want to talk grip, strongman, weightlifting . . . everything strength? Visit the IronMind Forum.