America's reigning super heavyweight king in weightlifting, Shane Hamman, has been splitting his time between training at home and at the US Olympic Training Center in Colorado Springs.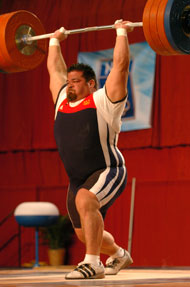 Shane Hamman puts away this 220-kg jerk at the 2004 US Olympic Team Trials (St. Joseph, Missouri). IronMind® | Randall J. Strossen, Ph.D. photo.
Before you think Shane is training under bleak conditions at home, you have to understand that his training partner is fellow Olympian Chad Vaughn, who is coming off a tremendous performance at the Arnold Weightlifting competition, and there is the added benefit of some home-cooked dinners.

Shane is weighing a wispy 325 or so right now, he said, compared to about 350 at the Athens Olympics, and about 380 when he legitimately squatted half a ton as powerlifter.

Shane said that he will be at the Olympic Training Center for the last six weeks before the US National Championships, and while he isn't handling huge weights at the moment, Shane said the he will be ramping up for Cleveland.

Shane's best snatch in competition is 197.5 kg and his best clean and jerk in competition is 237.5 kg, and people who saw them will tell that both lifts looked light.