Shane Hamman: "I Might Lift at the Worlds"
Speaking from the US Olympic Training Center yesterday, Shane Hamman said that Dragomir Cioroslan has been urging him not to retire quite yet.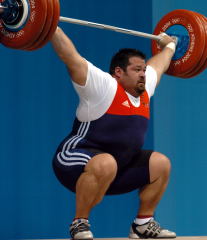 Shane Hamman blew up this 192.5-kg snatch at the 2004 Olympics (Athens, Greece). IronMind® | Randall J. Strossen, Ph.D. photo.

Shane Hamman is coming off a PR/American record performance at the 2004 Olympics, but he had been planning to retire - those plans just might be changing now.

Currently his training is pretty light, but Shane said that he is reconsidering taking another shot at the World Championships, and that he's about "fifty-fifty" on it right now.

Lifting fans see Shane Hamman - with hard training and a good day - as a medal prospect at the 2005 World Weightlifting Championships, and if he can manage this tremendous feat, he will be the first American man to accomplish this since Wes Barnett did it in 1997.