Shainova Sweeps the 58s at the Europeans
Sofia, Bulgaria - Russia's Marina Shainova had no trouble sweeping all three gold medals in the women's 58-kg category at the European Weightlifting Championships today. .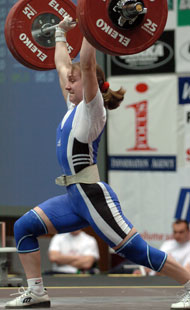 Making it look easy, Marina Shainova jerks 125 kg on her second attempt, all she needed for a three-gold-medal day. IronMind® | Randall J. Strossen, Ph.D photo.
Shainova had made three snatches - 92.5, 95 and 97.5 - before only needing two clean and jerks to pick up all three gold medals.

Aleksandra Klejnowska (Poland) hit 90/120 for the silver in the total, and her teammate Marieta Gotfryd got the bronze in the total via a 95-kg snatch and a 105-kg clean and jerk.