Setting the Stage for the Highland Games World Championships
With the Highland Games World Championships set this weekend, Edinburgh, Scotland is buzzing with excitement.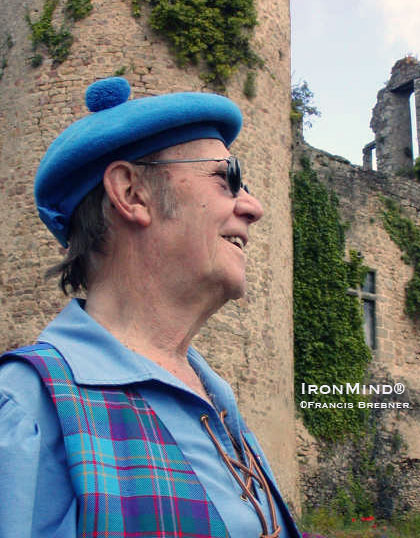 David Webster, OBE, the world's leading expert on the history of the Highland Games. IronMind® | Francis Brebner photo.

Francis Brebner filed this report with IronMind®, setting the stage for the 2009 Highland Games World Championships.

The IHGF World Team Championships just this weekend past in Nova Scotia, Canada was a major success and witnessed Sean Betz and Larry Brock breaking ground records in the 22-lb. Braemar put and 28-lb. weight for distance. Greg Hadley also established a new Canadian championship record in the 56-lb. weight for distance, and the highlight of the championships was Mike Zolkiewicz smashing the world record in the traditional 56-lb. weight over the bar - something to see.
 And now with the world's leading traditional athletes all fired up again for this year's IHGF World Championships in Edinburgh, Scotland, I would not be surprised to see some World Championships records broken, that is for sure.
 David Webster, OBE and Lord Jamie Sempell have set the stage for what is being called "the greatest Highland Games ever staged," with people making the pilgrimage from all over the world just to be part of this one-off historical celebration in honour of all things traditional.