Sergiy Sholom Certifies on the IronMind Red Nail
The IronMind Red Nail Roster was established in 1995 and while bending styles have evolved considerably since then as the popularity of the challenge has soared, officially bending an IronMind Red Nail remains the international benchmark for short steel bending: Today, Sergiy Sholom has joined this elite group.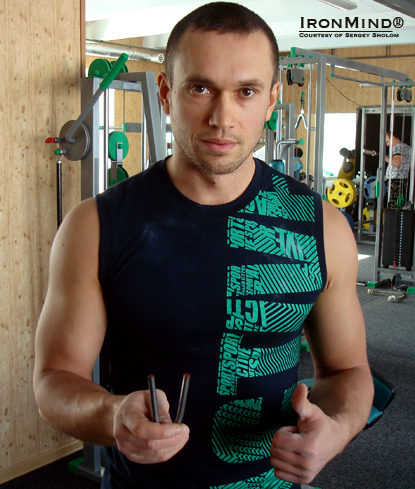 Sergiy Sholom said he was inspired by the feats of strength performed by Russian strongmen and now he's joined that tradition himself as he has officially bent an IronMind Red Nail. IronMind® | Courtesy of Sergiy Sholom.



Sergiy is from Donetsk, Ukraine and he enjoys a variety of sports: boxing, gymnastics, track and field, volleyball for starters. And as for bending steel, he explained, "Being inspired by the strength feats of great Russian strongmen, I started practicing this type of training," and thus he began tearing cards, breaking chains and bending nails. "To sum up: tear, bend, break and burst. :)

"Later I found out that such a sport was popular and developed in the USA. I got interested in bending the Red Nail and the other feats of grip strength. I decided to make my Red Nail bending official."

About himself, Sergiy said, "I appreciate and love my family, city and country! I respect in human intelligence, strength and hero spirit! I can`t stand weakness and betrayal! I prefer good mood, sense of humor and honest contest!"

IronMind would like to thank Vadim Voronochev for serving as the official referee and congratulate Sergiy Sholom, who has just been certified on the IronMind Red Nail and his name added to the Red Nail Roster.



###

Visit the IronMind Forum: talk strength, discuss this story. Strongman, grip, Highland Games, Olympic lifting, stones and more.

You can also follow IronMind on Twitter.