September MILO is Here: Hooray, Hooray
Celebrate if you love strength: the September issue of MILO is here—ready to give you the inspiration and information for your next round of personal bests.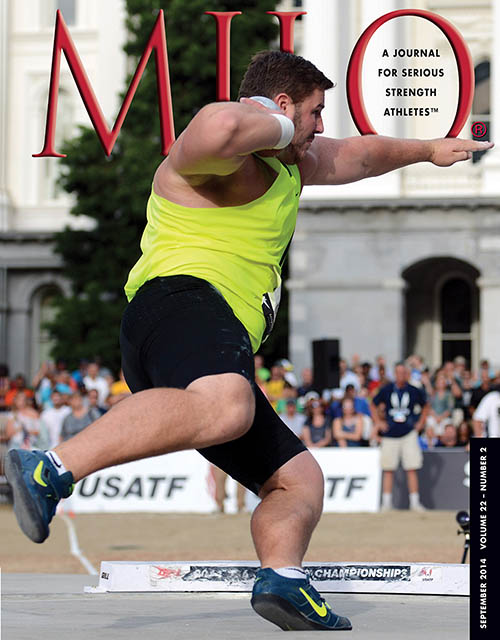 MILO, September 2014, Vol. 22, No. 2: The Capitol Shot was an outdoor party where immensely powerful men and women punched holes in the sky in front of the Golden State's capitol building, delighting guests who ranged from hardcore track fans to equally hardcore lobbyists, as well as state government officials and employees. Joe Kovacs made sure that the 2014 USATF Outdoor Nationals opened with no mere bang but a rocket launch, as he won the men's shot with a 22.03 m (72 ft. 3-1/2 in.) throw, the farthest put in the world this year. Randall J. Strossen photo


Everything from the One-Arm Pinkie Pull-Up to coverage of the 2014 World's Strongest Man contest—not to mention the IronMind Record Breakers for grip strength aficionados and mas wrestling for everyone interested in what has been dubbed "a close quarters tug of war," and, of course, a story on coverman Joe Kovacs.
Add some Highland Games, a pile of training articles, a Roundtable Report on the Tommy John epidemic, as well the latest on who's been certified on Captains of Crush grippers and the IronMind Red Nail. Talk about a feast for serious strength athletes—here's the full table of contents for the September 2014 issue of MILO: A Journal For Serious Strength Athletes.

###



Want to talk strength? Join the IronMind Forum.

You can also follow IronMind on Twitter and on Facebook.