Sedov Survives and Wins at the World Weightlifting Championships
Goyang, Korea - With more than a handful of 400-kg totals on the start list, the 94-kg class more than hinted at a fierce high-level competition, but with missed lifts dominating the night, it became a question of who would survive a different sort of bloodbath.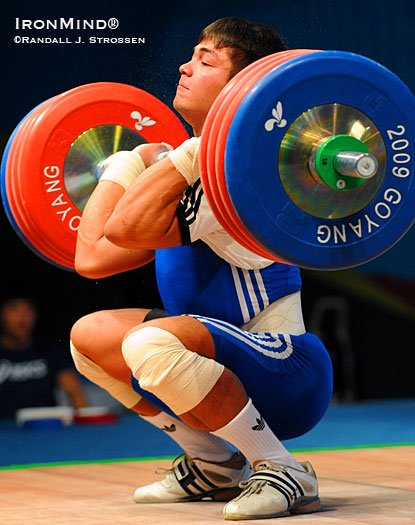 Vladimir Sedov hits the bottom with 217-kg on his way to winning the 94-kg category at the World Weightlifting Championships. IronMind® | Randall J. Strossen photo.


And that man was Vladimir Sedov (Kazakhstan), one of only two competitors in the category who managed to run off a string of three good snatches. Sedov got the gold medal for his 185-kg lift, while B-session lifter Artem Ivanov (Ukraine) captured the silver medal with 180 kg, and hometown lifter Kim Min-Jae (Korea) won the bronze with a 178-kg snatch.

The pattern of missed lifts continued into the clean and jerk, but Korea's Kim Seong-Jong emerged at the top of the heap with 218 kg success, followed by Vladimir Sedov, silver medalist with 217-kg, and Valeriu Calancea (Romania), showing how to get the most from one lift, got the bronze medal with 211 kg - the only good lift he made all night.

Despite the sea of red on the scoreboard, Sedov finished with an excellent 402-kg total. Nizami Pashayev (Azerbaijan), who had a rugged night - missing his first two snatches along with his first clean and jerk - got the silver medal with 387 kg, and Kim Min-Jae took home the bronze with 384 kg.