Sedat Artuc Wins the 56s at the Europeans
Sofia, Bulgaria - Pounding out five good lifts was all it took for Sedat Artuc (Turkey) to win the 56-kg category at the European Weightlifting Championships tonight.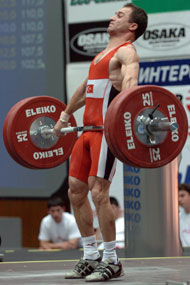 56-kg Sedat Artuc (Turkey) finishing his pull on his third attempt snatch, 125 kg, on his way to victory at the 2005 European Weightlifting Championships. IronMind® | Randall J. Strossen, Ph.D. photo.
Artuc, the 2004 Olympic bronze medalist, came into the contest in solid shape, and after making three good snatches, he followed with good clean and jerks with 145 and 150 kg, which was enough for the win, so he passed on this third attempt.

It was a good night for the powerhouse Turkish team, as junior Erol Bilgin finished off the night with 120/145 for the silver medal in the total. The bronze medal in the total went to Vitali Dzerbieniov (Belarus), who hit 117.5/142.5.