Sean Demarinis Wins California's Strongest Man Contest—Again
Huntington Beach hosted the 2014 Calfornia's Strongest Man contest over the weekend—Francis Brebner called the action for IronMind as Sean Demarinis extended his winning streak.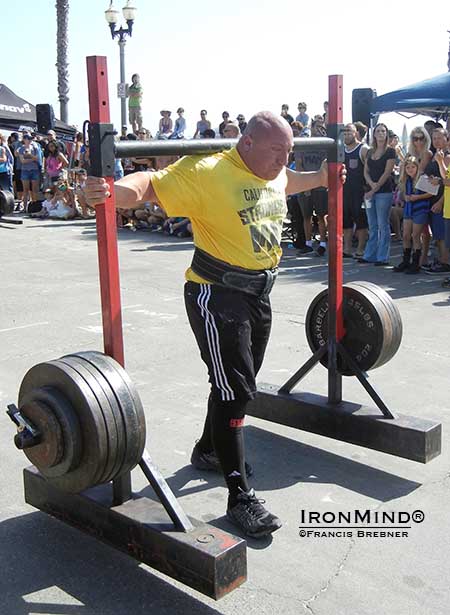 Can't stop him: Sean Demarinis, shown on the 800-lb. Yoke, won his fourth consecutive title at the California's Strongest Man contest. IronMind® | Francis Brebner photo



2014 California's Strongest Man
by Francis Brebner

California's Strongest Man 2014, contested this past weekend at Huntington Beach, was nothing short of epic. The event was non-stop and action-packed and ran like clockwork. For the first time, the California's strongest woman category was added to the customary lightweight and heavyweight men's classes. Nearly 50 athletes competed in the three categories in perfect weather conditions, attracting nearly a thousand spectators who cheered the athletes throughout the competition. Athletes traveled from as far as Texas and Canada to vie for the titles.

In the heavyweight class, it was a sweet victory once again for Sean Demarinis, who notched his fourth California's Strongest Man win. He won the lightweight class in 2011 and 2012 and then moved up to win the heavyweight title in 2013, reclaiming it in 2014. Demarinis sealed the win in the final event of the competition by lifting five Atlas Stones ranging in weight from 250 to 400 lb. onto to a nearly 5-foot platform, taking the crown of California's Strongest Man once again.

Overall, the heavyweight class had a very strong line-up of athletes, with Sean Demarinis, Craig Ayer, and Martins Licis, the top three, battling all the way.

In the lightweight class, Bryan Barrett put up a great performance to win, but he had to work hard for the overall as both Tom Yannuzzi and Chris Burke, who finished second and third respectively, were snapping at his heels throughout the competition.

The woman's category was impressive, with a total of 6 athletes. The competition was won by Amanda Gerdes, who began strength training only three years ago under the watchful eye of her coach, Scott Brengel.

The event was promoted by pro strongmen Scott Brengel, Cameron Gardner, and Erik Peterson and powered by East Coast West Coast Strength Speed & Conditioning, with the help of California's legendary strongman team, The Freak Factory. This was the 12-year anniversary of the longest running strongman show on the West Coast and the sixth year hosting the contest next to the ocean in Huntington Beach.

Final Results, Top Three:

Heavyweight
1. Sean Demarinis
2. Craig Ayer
3. Martins Licis

Lightweight
1. Bryan Barrett
2. Tom Yannuzzi
3. Chris Burke

Women
1. Amanda Gerdes
2. Caitlin Thola
3. Sherri Fontes

###

Want to talk strength? Join the IronMind Forum.

You can also follow IronMind on Twitter and on Facebook.