Sean Betz and Larry Brock: Throwing Their Weight Around Scotland and Ireland
Francis Brebner reported that Sean Betz and Larry Brock arrived in Scotland yesterday, "for the start of their month-long tour competing all over Scotland and Ireland in major Highland Games championships events."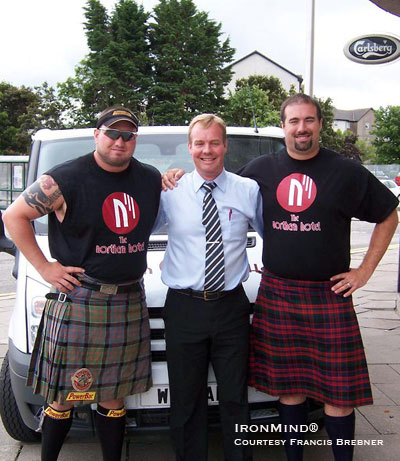 Larry Brock (left) and Sean Betz (right) relax in front of Aberdeen's Northern Hotel, with its owner, Gary Cox, who is sponsoring the two top Highland Games heavies. IronMind® | Photo courtesy of Francis Brebner.

Here is Francis's full report:

Larry Brock was the first to arrive in Scotland yesterday morning, with Sean Betz coming later in the day. However, for Brock there was no chance of jet lag setting in, as he headed straight for Fort William in the west of Scotland to compete in the Bravehart Highland Games Challenge, invited by the organiser and legendary former champion of Highland Games Hamish Davidson.

Brock added that the drive through the Highlands was "fantastic," arriving at Fort William for the evening Games, which started at 6 o'clock at the Locharber Leisure Center, with around 5,000 tourists and spectators turning out. Brock was not the only American competing at the Fort William Games, as good friend and rival Will Baron from New York was in the line-up, along with Scotland's Jason Young, David Hart, Malcolm Cleghorn, and Peter Whitehead.

The 16-lb. shot was the first event and was won by Brock with 47' 2", with Barron in second at 46' 2", and Jason Young in third with 45' 3".

In the 28-lb. weight for distance, Brock took his second win with a throw of 83' 7", with Barron once again in second place with 79' 9", and David Hart third with 65' 4".

In the 56-lb. weight over the bar, there was a three-way tie between Brock, Barron and Young at 15'.

In the caber, Young took top honours with a toss of 12:01; just one minute behind was Brock with 12:02 and in third was Barron with a toss of 12:03.

In the final event of the evening's competition, the 22-lb. open shot, Barron went ahead of Brock with a putt of 38' 0"; in second was Brock with 37' 2", and in third was Young with 35'.

The fun and games did not stop there for Brock as he now had to head back to Aberdeen for the following morning's press interview, which was held where they were staying at Aberdeen's renowned Northern Hotel, which is operated by owner Gary Cox, who so kindly sponsored Betz and Brock during their stay.

Gary has been a sponsor over the years to so many of the IHGF world's top athletes who come to compete in the major Highland Games events throughout Scotland and at the Royal Braemar Gathering. Sean and Larry both said Aberdeen is a beautiful place and the hotel is out of this world, and we could not be more thankful to Gary Cox for sponsoring their stay throughout this year's Highland Games series.

Larry Brock added that "this weekend will see us both competing in the Alva and Stirling Highland Games, and as soon as the Games finish, we have to catch a ferry from Troon, Scotland and journey across the sea to Ireland for the Glenarm Highland Games on Monday and Tuesday. Then [we come] back for a throwing clinic at Pitlocharty for some of the novice athletes there. Our season in Scotland is just calendar-packed, but that's how we like it.

"Both Sean and I have been throwing hammers and weights well this year, and we are both hoping to establish some major ground records in the motherland of Highland Games while we are here, but we know we have a strong opposition to contend with from Scotland, such as Bruce Aitken, Gregor Edmunds, Bruce Robb, and England's Scott Rider but we are ready for whatever comes at us."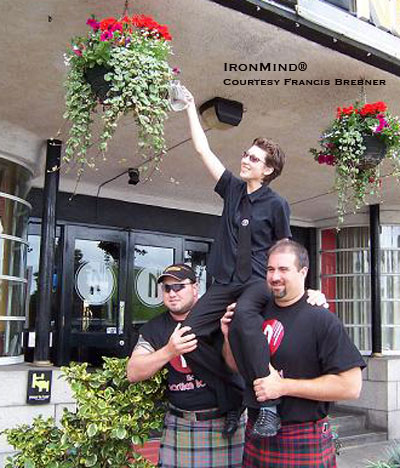 Larry Brock (left) and Sean Betz (right) make themselves useful at the Northern Hotel (Aberdeen, Scotland) by giving Olga, "the front desk operator," a boost. IronMind®