Sean Betz Wins Highland Games World Championships
It was a big day for the U.S. at the Highland Games World Championships, as Americans filled the podium: Sean Betz won, followed by Larry Brock and Ryan Vierra.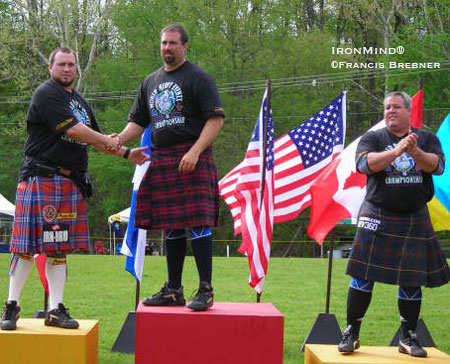 USA, USA, USA: Larry Brock (left), Sean Betz (center) and Ryan Vierra (right) fill the podium at the Highland Game World Championships. IronMind® | Photo courtesy of Francis Brebner.

Here is the report filed by Francis Brebner:

Clean Sweep for America

America took top honors at this year's World Highland Games Championships (which were held in Bridgeport, Virginia), as Sean Betz triumphed over the five-time world champion Ryan Vierra, who was gunning for his sixth title—which would have put him in the history books with the most wins.

Overall, it was a great competition with fantastic distances thrown in all events.

Betz won three of the eight events: the weight over the bar, 16-pound hammer and 56-pound weight for distance. Larry Brock won two events, the 22-pound hammer and the caber. Ryan Vierra won the 28-pound weight for distance, Scott Rider dominated the 17-pound open stone, and Kyrylo Chuprynin won the Braemer stone putt.

Points were, overall, Betz in first place with 19 points; Larry Brock in second, with 24 points; and Ryan Vierra in third, with 26 points.

Asking Betz how he felt after winning the World Championships, he said, "I feel great. I knew I had to place in the top three in every event, which I did. It just came all together for me . . . I am so happy."